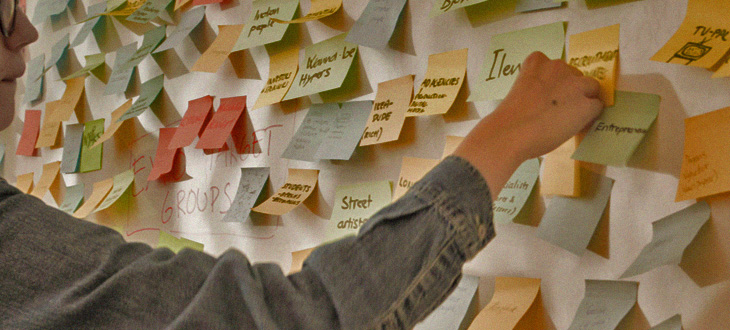 Hyper Island in Singapore
You're already good at your job but you realise that digital changes everything.
Improve your digital skills with Hyper Island Labs
It's time to up-skill yourself with the latest digital tools and knowledge and Hyper Island in Singapore is the best place to do that. Want to learn to design apps that people want to use, master analytics to improve a campaign or website, explore effective social marketing or find fresh approaches to idea generation and concept development? There's a Hyper Island Lab for that!
What is Hyper Island?
Hyper Island is a world famous education started in Sweden nearly 20 years ago that let's people learn through guided exploration of real problems and groupwork. This is nothing like going back to school and you'll be surprised how much you can learn in each week-long Hyper Island Lab; learnings that will make you more effective in your current role or provide the stimulus for that promotion you've been seeking.
Learning at Hyper Island used to mean going to Sweden but today we are in Singapore at 991B Alexandra Road (right next to Labrador Park MRT).
We've got big plans to support the creative and marketing industries in Singapore so keep checking back for longer courses and qualifications coming soon.
Persuade your boss
Each one-week Hyper Island Lab will give you practical skills that will enhance your work and the team around you. As well as technical and creative skills you'll get new perspectives on effective groups and working with clients. Each Hyper Island Lab has a real client brief at its heart giving you a chance to challenge yourself and come up with some great ideas.
Hyper Island Labs are perfect for anyone in the creative, marketing or media industries whether you work for a brand or for an agency and whatever your level or role, you'll learn plenty of new things. We'll emphasis the latest developments as well as the latest thinking from the global industry and you'll return to your job empowered to try new things.
Every Hyper Island Lab will include international and local speakers from Hyper Island's experienced network of industry and academic partners but the emphasis will be on hands on exploration and learning by doing; proven techniques that are far more effective than sitting in a classroom for a week. To help you learn each Hyper Island Lab will be led by an experienced facilitator who will guide and support every participant.
You can take one Hyper Island Lab or the whole series and we'll be adding more in the future. Each one is different and focusses on a different part of the digital landscape so by taking them all you get a broad set of skills making you really "digital ready".
An intensive exhilarating week
Each Hyper Island Lab lasts for 5 days: Monday - Friday from 9am - 5pm with a mixture of speakers, workshops, debate, discussion and presentations. Please bring a laptop.
The Investment
Full Course Fee:S$3,500.
With WDA Grant: S$1,050
From 15 April 2013, Singapore Citizens and Permanent Residents can enjoy subsidies of up tp 70% of the course fee supported by the Singapore Workforce Development Agency (WDA). Terms and Conditions apply. A S$100 booking fee applies. Places are limited so get in touch today!
Register to & find out more about our Hyper Island Labs in Singapore.
Want to know more?
Please email Jakob Widerberg, call +65 9114 3716 or pop in for a coffee to our campus at 991B Alexandra Road.
Sign up to our newsletter and be the first to get the latest updates!