A 3-day course that will transform how you design and implement user journeys, how you evaluate the quality of user experience and relate your business objectives to the user needs.
Upcoming courses
Got questions?

Hi I'm Paviter. Ask me anything about the Lab or Hyper Island. contact me.
Got questions?

Hi I'm James. Ask me anything about the UX Lab or Hyper Island. contact me.
A HYPER ISLAND LAB PREPARING YOU TO DESIGN DIGITAL EXPERIENCES FOR HUMANS
Explore the mechanics of designing impactful user journeys over three intensive days. You'll gradually build your knowledge as you work through a real business challenge. Whether you're a digital expert or new to design, our experienced team will support you at every level.
Get the understanding
Analyse behaviours. Observe how your consumers interact with technology and digital environments. Explore the decision making processes powering the consumer journey to your product or service.
Expand your network
You'll collaborate with peers and multidisciplinary professionals on a real business challenge. That will help you to develop the skills that designers need to make good strategic decisions.
Gain the competence
Test and evaluate the quality of user experience. Learn how to relate your business objectives to the user needs. You'll learn transferable skills that can be directly applied to your own business, workplace and career.
What you'll learn
You'll learn to be a better designer. Practice how to finely balance your customer's needs with the demands of your business. Create value for both.
We'll cover all the bases for you to expand your knowledge. We will stretch you to explore new tools within user experience. Encourage you to test theories on real scenarios. You'll get tangible takeaways on all levels. From mindset, design theories, to cases, practical tools and methods you can apply directly at work.
Download the syllabus
Explore Human-centred Design Thinking
Grow your confidence in the theory and implementation of a design thinking approach.
Empathise with your Customer
Learn to understand behaviours, characteristics and motivations of your customers. Explore user research tools. Persona mapping.
Customer Journey Mapping
Observe and understand what powers your users toward an intended goal or scenario. Mapping needs and scenarios over their journey.
Prototype your Ideas
Build storyboards, scenarios and wireframes to develop user experiences. Experiment and test ideas with rapid prototypes.
Innovate through Technology
Explore global trends in digital interface design. Discover technical ideas in responsive design. Design for multi platform experiences.
Take it Beyond the Team
Understand value of user experience design and how to bring clients and colleagues along the journey with you.
How you'll learn
This course will be a high energy and hands-on course held over a three day period. Expect to spend 7-8 hours per day.


Learn with Trusted Practitioners
A chance to get real-life insights from practitioners who will support you in adapting your mindset and skills in design.
Renowned Learning Methodology
Experience methodology that focuses on team collaboration instead of individual effort, and challenges you to grow personally and professionally.
Solve a Real-life Business Challenge
You'll gain hands on experience and direct knowledge of working on a real brief for a real client.
Practical Workshops and Speaker Sessions
Sessions with course leaders to troubleshoot your hurdles and support your progress. Workshops to experiment and explore peer based learning.
The Lab was an insightful, eye-opening three days that gave me a new perception of what user experience really is.
Hidayat
Interactive Art Director, Carbon Interactive
The team
The course is led by a team of experienced facilitators and thought leaders from the Hyper Island network.
Paviter Singh: The Technology Educator, SG
An educator and a developer at heart who has worked with developing new technologies for over 16 years. He has lectured on areas such as Game Design, Interactive Technologies and The Future of Media.
Nathan Miller: The UX Researcher & Innovator, UK
A learning designer, innovation facilitator and UX researcher. He previously led the marketing team at robotics startup Emotech, who were selected for TechCrunch's 2015 Disrupt Top 15 emerging startups.
Alumni from our previous courses include
From the team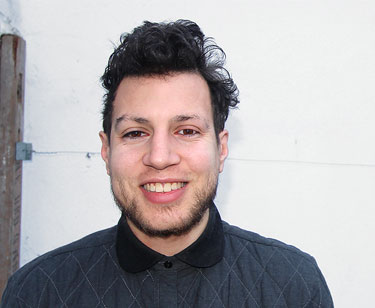 Learning, speaking the vocabulary of, and facilitating the activities of UX Design is the key to unlocking the performance potential of your business.
Nathan Miller
Lab Facilitator at Hyper Island
Ask us anything
If you have any question or need advise on what the course can offer and if it's a good fit for you we are here to help.


Can't find the answer you're looking for?
Contact admissions
I'm not a designer. Can I still take this course?

Our course is designed for all levels. Its goal is to help create a better understanding of user experience and empower you to create enhanced customer centricity.

What is the price of the course?

The price of the course is 1 700 GBP if you wish to participate in the London lab, or 2 725 SGD for participants wishing to be part of our Singapore lab. Payment must be made in full upon registration by credit card or invoice.

What dates is the Lab on?

The Singapore lab is from 4-6 October 2017, and the London lab from 1-3 November 2017.