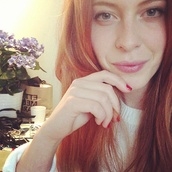 Jessica Roos
ProgrameCommerce Business, 2014
Current OccupationStockholm
Conversion Strategist at Ottoboni
Hippd.com
With stickers for your Apple products, iPhone Charger and MacBook Charger we put the identity of your darlings back in your hands!
Vision Our company mission is to, with our beautiful Charger Stickers for iPhone and MacBook, brighten your every low battery hour!
I was a part of this project for 2 weeks, helping them with launch and marketing (my favorite parts).
(updating..)