This is the story of Corine Daldorph, art director at digital agency Annex88, and her journey from Sweden to the United States – propelled by the Digital Media Creative program at Hyper Island.
My name is Corinne Daldorph and I work as an art director at Annex88 here in New York. I'll start by sharing some things about myself. Those who know me know that I'm all about walking, stalking and talking:
Walking: I move around a lot, both in the world and in the city. I'm restless and always looking for something new to do or somewhere new to be. That's where my love for events comes from.

Stalking: If you know anything about data, this won't sound scary. I'm a strategist in mind and creative by heart, so I love the access to data that social media gives me. I use social listening to understand the target audience and then build an interactive element on top of that.

Talking: This comes easily to me and it is maybe the reason for why I'm now in based in New York. I talk my way through life. And I'm not planning to stop.
Sweden Loves American Culture
One thing you should know about Sweden, where I grew up, is that entertainment, food and culture as a whole is heavily influenced by the United States. We love American music, TV shows, food and clothing labels. Like many people, I also love American movies, so New York has always been a dream destination for me. And, when I got into advertising,  discovered that there's no better way to start out in the Big Apple.
Once I decided to move to the States, I went over in 2016 to meet up with different companies to try and find a good fit. In my head, it was all going to be super easy. But it ending up taking me a full year to find somewhere. 
I also tried my luck in Los Angeles and Tokyo, but I'll share my experiences of those places another time.
My Journey Started (For Real) at Hyper Island
Where did my journey start? It began with a bored Corinne, thinking about going to school because that's what one should do. I initially chose between law and psychology, and decided that the latter was the best fit. After talking to my friends that were a bit baffled by my choice I called a former teacher to hear her thoughts about it. 
She told me: "Corrine, I think you're too creative to become a psychologist. You should apply to study at Hyper Island".
After researching and discovering that it's only for two years, I applied for the Digital Media Creative full-time program at Hyper Island Stockholm. 
All I knew about the program was from the website, which said that the program ran for 90 weeks and we would explore design, technology, strategy and entrepreneurship – with a focus on creativity and communication.
I got in without really knowing what I just committed two years of my life to.
Learning by Feeling
I was pretty much exhausted after the first week and realized that I had probably never been in a room were emotions were expressed in such an open manner.
I honestly didn't know how to cope with it. 
Sharing emotions continued to be the hardest thing throughout the journey and I'm still struggling with it to some degree. 
The second biggest struggle for me was to choose a field or department to work in. Everything appealed to me. 
So, three months into school, I started work as an influencer marketing strategist at Framkalla, "the best photo printing service in Scandinavia". All of a sudden, I was the one to go to with questions about social media and strategy. 
I didn't choose social media, social media choose me, lol.
Working with social media led me to focus more on data and analytics during the projects we worked on. 

After I graduated from Hyper Island in 2017, I continued working with Framkalla while I was looking into positions in New York. 
I finally found a suitable spot as an integrated strategist intern at Annex88. I was finally able to move to New York.
Set Expectations of Roles
Fast forward to today and I am now working on the art-direction side, as a creative – which might be strange for some, but that's the beauty of Hyper Island.
You see, when going into it without knowing what you want or what your expertise is, you stay open for all the different aspects of creativity and truly live by the rule that everyone can be creative. 
When I started work in the industry in New York, I soon realized that not everyone sees themselves as creatives, and that it's sometimes hard for a strategist to gain trust when it comes to creative aspects because that's not the set role.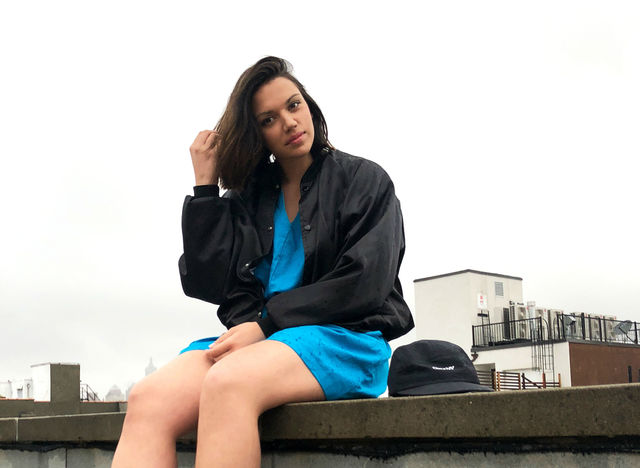 Creativity, Collaboration and Team Building are Everything
Even though Annex88 is one of the most chill companies I've experienced, where one has a lot of opportunities to grow, I don't think that's the case with some of the bigger creative agencies here in the US, where the hierarchical structure is more apparent. 
They seem to put all the focus and spotlight on certain individuals rather than encouraging people to work as a team. Yes, you will have some glorious wins and some efforts will be remembered but without those key members, as an agency they will have no following. Real success will only come when they actually give every individual the opportunity to grow and make mistakes, and give them tools to work together.
Creativity, collaboration and team building are three things that Hyper Island gets and are what its alumni are known for. 
Continuously striving for better, more efficient work, while taking human thoughts and emotions into the equation, is something I learned at Hyper Island that I'll keep with me my whole life.