Dan Nessler successfully graduated from Hyper Island's Master in Digital Experience Design in 2016 and now is UX Director at Hinderling Volkart, one of Switzerland's most renowned digital agencies. Dan regularly shares his learnings on Medium, a habit he and some of his fellow students started during their time at Hyper Island. We met up with Dan and talked to him about his journey since graduating from Hyper Island.
Hi Dan! Tell us a bit about yourself.
As a kid, I spent a lot of time with my parents taking out our orange rubber motor boat on the lake but they encouraged me to learn how to sail. They always used the saying: «No one can take what you experience and learn». I didn't listen to them. So now, a rough three decades later, I still don't know how to sail, but, I finally understand what my parents meant by this saying. Thus, I have found purpose and the real value of constantly learning, doing and experiencing new things.
How did you end up at Hyper Island?
Before coming to Hyper Island, I had continuously been working for agencies for over 10 years. I just didn't feel inspired anymore. I got annoyed by doing basically the same projects over and over again. I wanted to do something different and more meaningful. That's when I remembered what my parents said to me as a kid. Keep learning.
I decided to quit my job and look for new inspiration.
After doing some research, I found the Digital Experience program at Hyper Island. It felt like a great match and so I went for that.
How did Hyper Island impact you?
It was really life-changing. A vital part of the learning process at Hyper Island is sharing your learnings, receiving feedback, and continuously working on yourself. So some fellow students and I started writing posts on Medium. We just did it for ourselves, for the sake of our process. But from one day to another I found out we were being read by more and more people. It went from a couple of people to thousands of people - that's when I realized the power of sharing. So I continued to work on my sharing and publishing.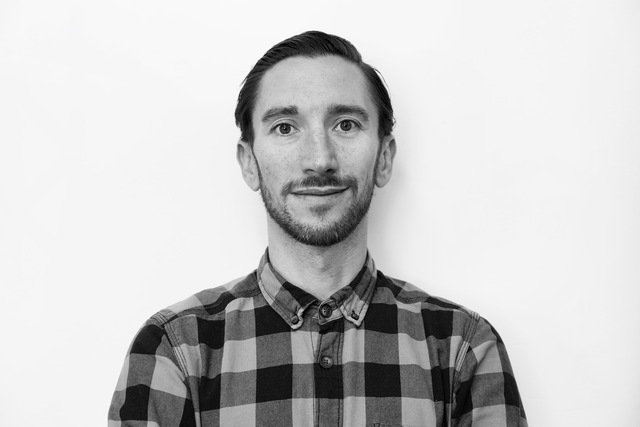 That's also how you found your current job, right?
Partially. I got job offers based on my articles on Medium - I started being invited to conferences, people were asking me for advice, I got a lot of feedback (positive and negative). It was a very rewarding, transformational journey. People were grateful that I was sharing my insights and showed me how much they valued it.
Now that I'm at Hinderling Volkart, I really try to share my learnings and advocate the value of doing so. Furthermore, I also teach as a guest lecturer at Universities in Switzerland. I want everyone to benefit from each other's knowledge and to consider sharing learnings as a crucial ingredient of one's learning journey.
You mentioned Hyper Island felt like a good match right away. Why?
It was a long process of research. I had heard about Hyper Island many years ago. Over the years, I got lucky enough to work with some of the best people in the industry and a lot of them mentioned Hyper Island.
I then compared all kinds of educational programs I could find - both local and global. The attractiveness of Hyper Island just made the race for me. The people I heard about Hyper Island from were credible people - and also the way the program was structured just hit the nail on the head.
What was the best learning experience at Hyper Island?
We got our hands dirty. The program is really hands-on. That's such an important part of the learning process. You do learn more if you actually get to apply the stuff you learn. And Hyper Island really focuses on that. That's what makes the school so great.
Going out and doing stuff, being the honey-badger, being outside of the comfort zone is one part for me.
Secondly, today the only thing that doesn't change is change. Technologies, industries, professionals are constantly evolving. The only thing that isn't in constant flux is how much we rely on people. The more complex things get, the more knowledge about collaboration is required. We can't face these challenges all by ourselves. Hyper Island really stands for this focus: how to facilitate, how to build teams and lead people.
The combination of these two things with industry-relevant knowledge is what makes the mix so great. It comes down to self-awareness and the three dimensions of EQ: self-awareness, awareness of others, and context awareness.
Did Hyper Island have an influence on your network?
Yes, it had a huge impact on my personal life. Especially looking at the people I studied with - 60 people, 40 nationalities, aged between 23-40, people with diverse backgrounds - just getting to know the people in my program gave an incredible boost to my network. I still keep in touch with many of them and we try to visit each other. The Hyper Island network is great - when it comes to learning, jobs, and relationships.
On top of that, you connect to all the industry leaders and speakers - it really broadens your network. There also is an extended network everywhere. For example in Switzerland, we have a Hyper Island Switzerland group to keep in touch locally. That really brings people together to a certain extent. Now Hyper Island is focusing even more on alumni and encouraging local groups to engage more.
What's your favourite Hyper Island tool?
I really like a tool that we created within our program. We had a 48h sprint session to create and gather the tools we felt we needed. You can find the tools here.
The tool I really like to use to break the ice is the photo-telling tool. I've adjusted it a bit to my own needs, but it's basically a way to get people to talk to each other.
This is how I do it: I tell people to get their smartphone, open their favourite image app, and go 7 pictures back and then discuss the picture with the person next to them. It's great to get people talking and generate some laughs.
What do you do in your job today?
I've been here for roughly a year now. We're still shaping the profile and position a bit. So I work with different clients. I liked everything from the start - user research, prototyping/wireframes, presentations, workshops - organizing stuff to keep the process going. But just as the field is still evolving, so am I.
---
If you want to know more about Dan, you can connect with him on LinkedIn, Twitter or through his website. If you want to learn about our Master's programs or our other long-term programs, you can reach out to jack.morgan@hyperisland.com (long-term) or claudia.teijgeler@hyperisland.com (Master's).
Alumni? Did you know that you're part of a global community of over 4500 people? Sign up for our alumni newsletter here to receive content like this and stay in the loop.
---
Written by Nicole Michaelis (former digital marketer) Images by (1) Boris Baldinger and (2) Josephine Hjort