The Team Behind Meer.li
Five Hyper Island Mobile Applications students joined forces and created meer.li - a platform for mobile designers to show their designs. Meer.li is getting a lot of love with thousands of daily visitors. Here's a fresh interview with the team.
Introduce yourselves!
Alexander Auld: Panoramic, project manager and founder from New Zealand. @aauldy Holger Sindbaek: Bitchie, back-end developer and founder from Denmark. @HolgerSindbaek Marcus Andersson: Fearless, Front-end Develeper from Sweden. @andersson_ma Aksyl Dybdal: Invincible, iOs-developer from Norway. @axldyb Zebastian Zattberg: Instictive, illustrator from Sweden. @Zattberg
Tell us about meer.li?
We set out to build the best place imaginable for mobile designers to show off their amazing designs, interact, be inspired and give feedback to each other. The mobile platform is an exciting place from a design perspective and we have already seen an increasing number of mobile specific designers on the scene and large number of unique design trends form and evolve in a rapid rate.
With our experience in the mobile world it became clear to us that we needed our own platform to take our design forward so we created Meer.li . Using the seriously-mobile site as a foundation we were able to form meer.li on the ideas, opinions, input and feedback from working designers and mobile design enthusiasts to create the best service possible.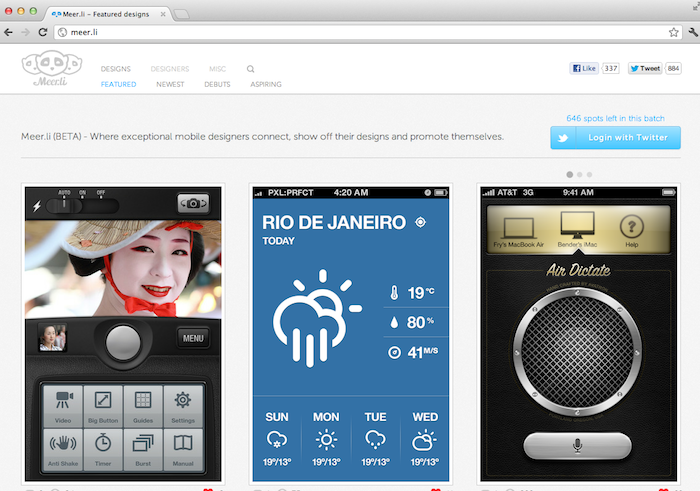 What was the work process like?
It has been very fast moving, we set out with the mind set to put our selves out in the public eye as soon as possible. This meant gathering our research, insights, and pushing out a minimum viable product in a short amount of time. The benefits of our work flow has been the massive amount of feedback we have gathered along the way, allowing us to re-iterate the community as we went, forming our community and building it together based on the feedback of our initial members.
What was most challenging?
Actually creating the thing. None of us knew back-end coding before we started on this, so jumping into that ocean of the unknown, was probably the biggest and most important factor for making Meer.li into a reality. In the very start, where Meer.li was called Seriously-Mobile.com, the biggest challenge was to believe it could happen. We also got a lot of responses from people thinking it was just a mobile version of dribbble.com… they have changed their minds now!
How would you sum meer.li up in 2 words?
Mobile Mania
Finally, who would win a fight between a dragon and a dragon sized alligator?
If the alligator is from beast wars, it can transform into a kick-ass robot and beat the dragon, otherwise its screwed.