Hyper Island launched a Reversed Mentorship Program with Electrolux this Spring. In this program, students had the opportunity to mentor Electrolux executives on Hyper Island methodology, while being able to reality-proof their learnings with one of Sweden's biggest corporations.
COLLABORATE WITH HYPER ISLAND
Pernilla is Head of Design for Home Care and SDA at Electrolux, one of the business units responsible for small appliances including vacuum cleaners, air cleaners, small kitchen appliances and ironing devices.
"I've been with Electrolux since 2008. I started working in Singapore then moved to Stockholm in 2014."
Mauricio is originally from Colombia and came to Sweden 8 years ago for a Master's in Environmental Sciences in Uppsala. After completing his studies, he began working in Stockholm with different environmental think tanks.
"After 7 years of working with environmental issues, I started to feel like I wanted to have a link with technologies and data to engage different people better. I had a friend in Karlskrona who studied at Hyper Island and he suggested I apply. I did my research and figured it was a great school for me to get exactly what I felt I needed."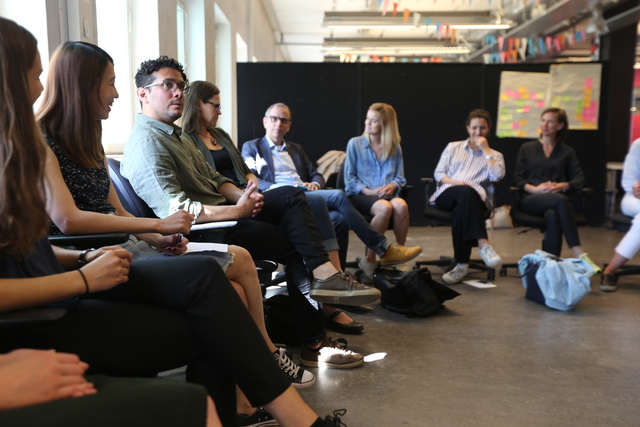 Pernilla explains that she's been both a mentor and mentee on several occasions throughout her career.
"It's always been about a senior leader mentoring a junior executive or simply building up experiences based on seniority. This reversed mentorship program really does the opposite. It's allowing the educational system to feed back into a corporation. Mauricio has a lot of experience in different areas, but it was much more about the education 'mentoring' back into corporate practice. A unique experience."
For Mauricio, it was most valuable to see how his and his fellow students' knowledge could directly contribute to a working professional in a corporate context.
"It was about learning from each other as people, but also about seeing challenges and business approached from a different perspective. The program was a great reality check for my ideas - and a great way to improve them."
Pernilla believes that the matching process in the beginning of the reversed mentorship program was vital for its success.
"It was really astounding how well we were matched. Different experiences and interests were matched in such a way that every pairing really felt unique and right."
In order to match the students with suitable professionals, both groups fill out a form asking them about their skills and experiences, but also their personality traits and interests. While the professionals' form is very much tailored towards finding out what they want to improve at work, the students get to focus more on their fields of interest. This way it was possible for Pernilla and Mauricio to connect via their shared interest in UX and sustainability.
In practice, the pairs met 4 times over a period of 3 months, for about an hour each.
"We needed enough time to really understand each other, to bond. I didn't just want to say 'we should do this we should do that'. We had to build trust", Mauricio explains.
Pernilla felt like there was a lot of openness and trust from the beginning.
"What Mauricio did really well was to ask open questions to define the space I was in. He then used that information to provide me with great insights. He really tried to understand my environment, which was very complex compared to his, and then abstract it in a way that gave me value based on his experience."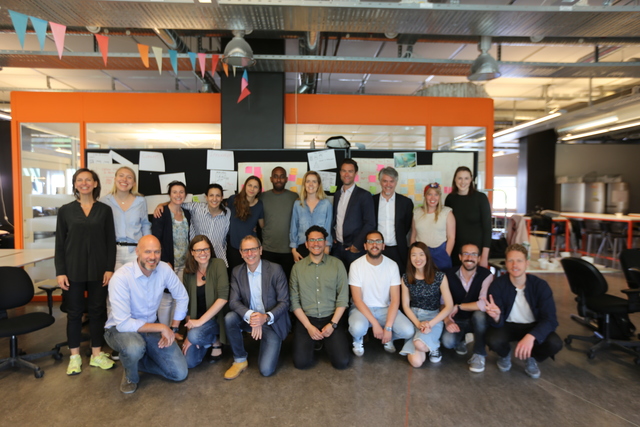 For both parties, the Reversed Mentorship program presented several great learnings. Mauricio found the opportunity to work with a company so closely, was a great experience in itself. At the same time, both of them enjoyed meeting someone on a personal level yet within a professional context and building a space for collaboration, exchange, and fun.
"A space to share feelings, perspective and knowledge. Then, of course, transforming those insights into my learnings at school. How can we take them home?", Mauricio explains.
Pernilla's expectations going in were mainly focused on learning about a modern education system.
"I've led people for about 20 years and my understanding of an educational system is from the dinosaur period. I keep on learning, try to stay up-to-date and I have a mental model on what I think it is that we need to take on the journey of digital transformation. During this mentorship, I got plenty of validation of my ideas. Mauricio said that I'm already a 'Hyper Island thinker' and that was a great compliment for me! I also very much enjoyed the tools, and have already introduced some of them to my colleagues." Pernilla also bought one of Hyper Island's most recommended books, Susan Wheelans 'How to build effective teams'.
Both Mauricio and Pernilla have already been able to take some of their learnings from the program home.
Pernilla says that she got very helpful insights by bouncing some ideas around design thinking with Mauricio. "This summer I actually started implementing some of these ideas and insights at work. I started to apply some of the new methods I learned, engaging a multi-functional team in the process."
Mauricio's biggest learning was the realization that design thinking is just a tool to develop ideas further.
"Pernilla was facing certain challenges in terms of digital transformation that were relevant to what I was learning. As a student, I'm facing a lot of similar issues every day, so it was a great way for me to practice certain ideas and concepts, for example like exploring what kind of digital transformation needs which tools. That very much influenced the way I think about transformation now."
Mauricio was generally impressed to see how more and more change in relation to digital transformation is becoming visible in the corporate world now.
"It's a constant topic of conversation and it was great to see how Electrolux approaches it. I loved experiencing their context."
---
We'd like to thank both Pernilla and Mauricio for speaking with us about their insights. If you're interested in the Reversed Mentorship Program or want to know more about how to collaborate with our students, please reach out to Johanna Nordin at johanna.nordin@hyperisland.com.
COLLABORATE WITH HYPER ISLAND
Written by Nicole Michaelis (former digital marketer)