The Feedback Note That Changed My Life: A Toast to Hyper Island turning 20
This is a transcript from Bella Funck's speech at the celebration party of Hyper Island 20 years in Stockholm.
It was 2002 in the sunny south of Sweden. Me and my classmates – of "Crew 8" – had just finished our first week at a camp outside of Karlskrona where we'd spent days listening to personal presentations, team building and getting introduced to our program, Digital Media.
As the second week started, our class of 71 got divided into groups of 12. We were told we would spend the whole week together in these small groups, "locked in in a room". We were recommended to not plan anything during the evenings and preferably avoid talking to classmates in other groups.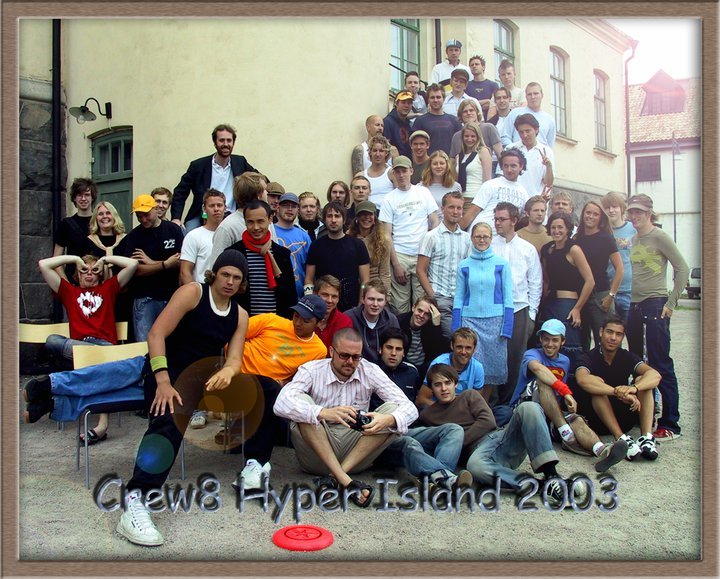 As I remember, it was all very mysterious and we got little information as to what the week was about.They said it had something to do with the Swedish National Defense College. (I started to wonder, am I in the right place, didn't I sign up for a program about digital?!)
During some parts of that week, we sat in silence for what felt like hours, waiting for something to happen, when suddenly one of us would burst into tears and reveal something vulnerable. Other moments were spent arguing about hypothetical stuff, like if whether it's ok to punch back if someone hits you. I remember sitting there, feeling uncomfortable with the level of uncertainty, while at the same time amazed at how the Hyper Island principle team is everything started to feel real.
During that week I received feedback from one of my classmates that totally transformed something within me. It said "Bella, I believe you would grow even more if you learned to listen to yourself as well as you listen to others".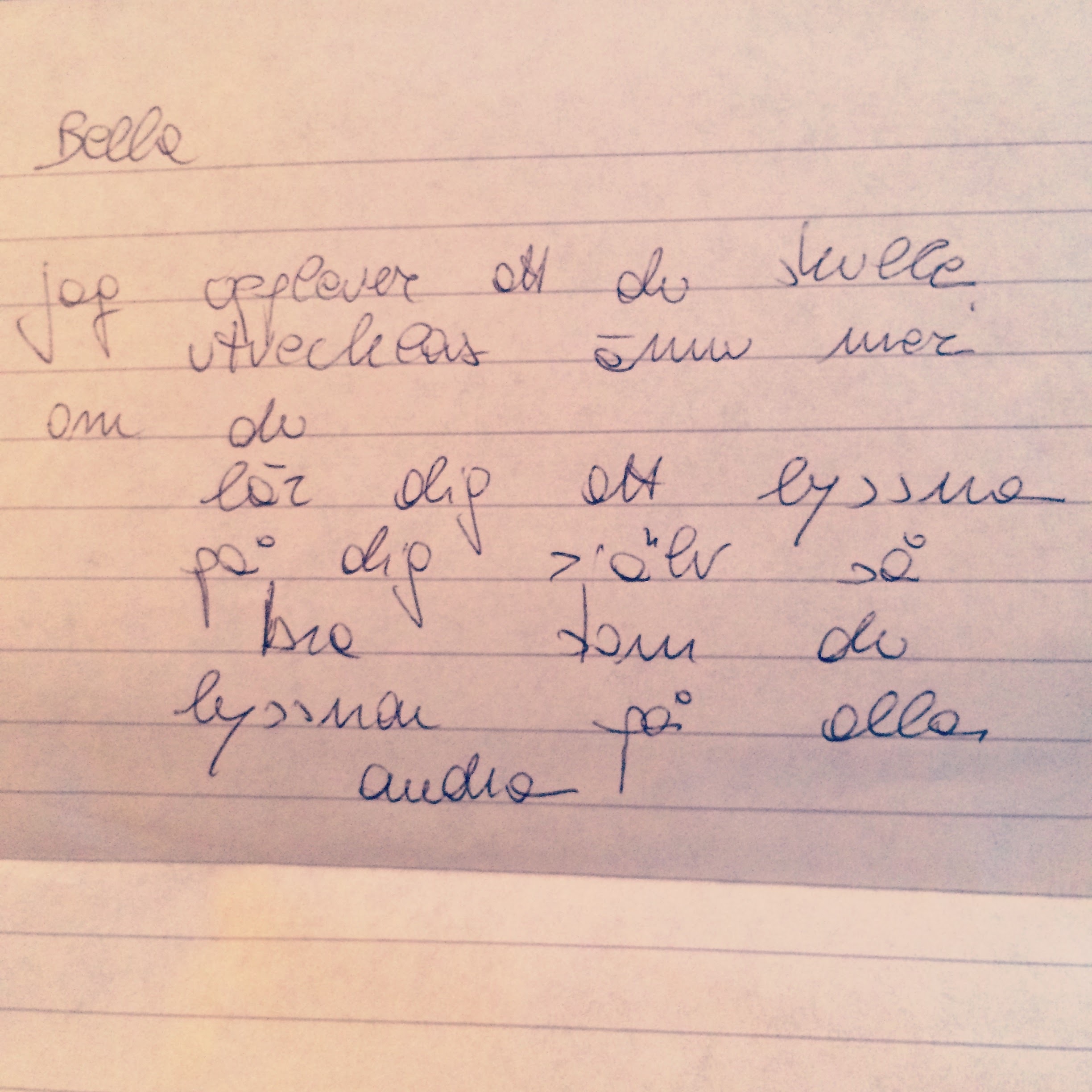 I started to think. "What do you mean?", "How do you listen to yourself?", "How do I listen to myself?". After some time the questions evolved into "What do I believe?", "What do I want?" and "What do I value?" A process of deeper reflection and self-awareness started within me. It hasn't stopped since and I hope it never will. At times this process feels extremely uncomfortable, especially back then since I went from a place of feeling safe and known to a place that was unknown and scary. But overall, extremely liberating.
I'm sharing this with you because I believe this piece of feedback I received all those years ago says so much about Hyper Island.
What Hyper island does is create a platform to learn to listen and empathize with others as well as ourselves. It encourages us to seize ours and others potential, by connecting to our values, passions, and dreams. It unlocks this endless curiosity and bravery to dare to do what seems impossible, without letting fear or lack of knowledge stand in the way. Hyper Island awakens our inner rebels and empowers us to learn for life.
Speaking of learning: a while back I found notes from one of our lectures with Mikael Ahlström. It was one of these digital trends, future-focused kind of lectures where we students would become real-world ready. 15 years ago this is what we learned at Hyper Island: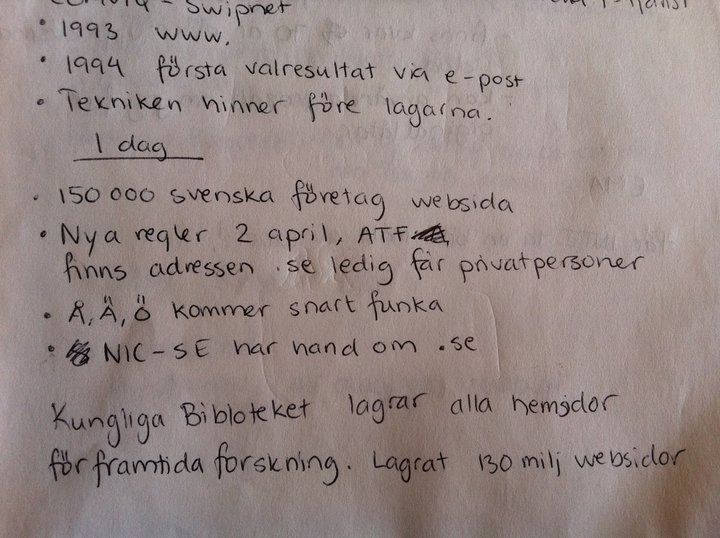 It says:
Technology is moving faster than the regulations
150 000 Swedish companies have their own website
New rules from 2nd of April, 2003: .se domain will be available for private persons
Swedish letters Å, Ä, Ö will soon work on the internet
[The National Library of Sweden] (http://www.kb.se/english/) stores all websites for future research. So far stored 130 million websites.
The innovations in digital and technology have evolved dramatically since that first week in Karlskrona. One thing is for sure: that change has created an unprecedented opportunity to make the world and people's lives more sustainable. Through our passion for collaboration, innovation, and technology we have the possibility to fully unlock progress to solve problems that matter.
Hyper Island is you. Whether you are a student, an ex-student, a collaborator, a coworker, a previous coworker, a shareholder, a board member, a founder or a fan. Hyper Island is created by us, by every single one of you. We have been changing the world bit by bit every day for more than 20 years – by striving to be true to ourselves, daring to question the status quo and cultivating compassion within us and around us.
I am sure that for the next 20 years Hyper Island will continue pushing boundaries within lifelong learning and helping to transform educational systems all over the world by leading the change and spreading our magic.
Let's celebrate all of us who make Hyper Island what it was yesterday, what it is today and what it will be tomorrow! Cheers to the network of Hyper Island and its progress!
---
About the Author
This article was written by Bella Funck.
Bella is working as the Director of Development & Customer Experience at Hyper Island. Leading Hyper Island's own transformation and innovation processes with purpose and learning as core vehicles.
She is a visionary doer that loves to empower people to lead change, both within and without themselves. Bella is an alumnus from Hyper Island's Digital Media Creative program (2002), in Sweden.