Sid Lee's Boot Camp 2012
Catching up with Motion Graphic Design Alumni Raymo Ventura who recently participated at the Sid Lee Boot Camp 2012 in Montreal, Canada.
Hi Raymo! How did you initially get involved in the Bootcamp?
Well, Sid Lee had an open call for submitting portfolios on Facebook, and after going through around a thousand applicants from around the world, they selected me as one of the 8 Finalists. All of us came from multiple creative disciplines, and were notified about three weeks in advance then flown out to Sid Lee's Montreal HQs to live and work together on site for 240 straight hours!
Wow! What was it like living and working on site?
Sid Lee hooked us up with a pretty pimped creative pad! We were each given our own sleeping cots... there was an indoor basketball hoop and ping pong table... turntables setup and soundsystem... even a sandbox!... and plenty of open space and walls to consume with post-its for generating ideas. Over the span of the 10 days we completely made of mess of space!
And on a short period time we were able to really get to know one another and build a team chemistry! Every morning we got our day started with yoga and drill instructors... then each day we participated in workshops Sid Lee staff as well as a some inspiration guests from Autodesk and Cirque du Soleil.
Describe the project and your role?
Our main goal was to create a case study film for a pitch to (Red) at the C2_MTL Conference. (Red) is an organization founded by Bono, who partners with various commercial brands who's goal is to eliminate mother to child transmission of HIV. Our job was to help redefine what exactly (Red) does as well as discover methods of how to spread the implement awareness worldwide.
As a group we conceptually tackled the brief as a team, then divided up production tasks accordingly to our creative disciplines. I personally contributed with helping film our stop-motion experiments and some animation & comping in post... while also conducting all the voiceover sessions, sound design composing the musical backing track.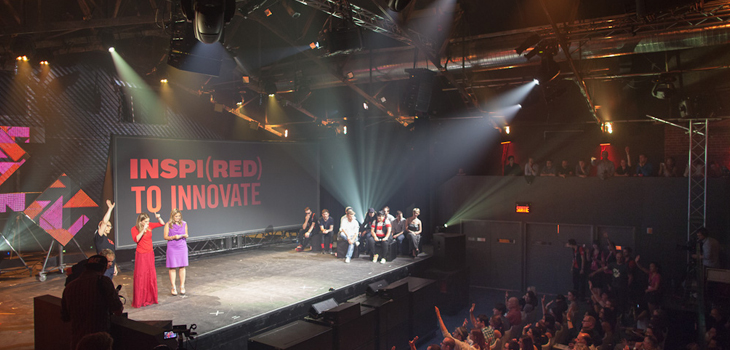 What was it like at the C2-MTL Conference?
Around the seventh day we migrated over on-site to the C2-MTL conference where we were quarantined to work inside of a dome plastic bubble located in the venue's outdoor interactive courtyard. Conference go-ers could listen in to our conversations on headphone stations right outside the dome. Right next to us were also some cool Sid Lee live art installations as well as a bad ass taco truck!
The conference itself was sort of a creativity meets commerce platform headlined by a star-studded lineup of guest speakers (Francis Ford Coppala, Michael Eisner, Arianna Huffington) and performers (Moby, and Cirque du Soleil). On the 3rd and final day, we went up on stage to present our project to the CEO of (Red) as well as the whole C2-MTL audience of about 1200 people... It was amazing feeling to immediately share a project to a crowd and receive an overwhelming positive response and feedback! We even celebrated with vodka shots on stage!
C2-MTL Recap http://c2mtl.com/so-that-just-happened/
Overall impression of the whole experience?
Have to say, it was pretty rockstar! What I enjoyed the most was the group dynamic amongst the entire team with everyone throwing down their extra effort into creating a fun case study in such a short period of time! Loved how the project naturally evolved... we really got our hands dirty in playing around with a bunch of materials for hand-crafting experiments... Everything from blowing up confetti filled balloons, to climbing up on traffic lights and turning bleacher benches up-side down! Not just your average all in box (box as in computer) type production! And the great thing about it was that the whole process was daily documented on camera or us to share and reflect back on the entire experience. Truly bad ass!
The Pitch Video & All the Bootcamp episodes can be seen on my portfolio site.