Jan Jelle de Boer, called Jelle by his friends, is a 27-year-old design-enthusiast from Amsterdam. Besides starting his own company at age 19, and working for clients such as The Walt Disney Company and Stage Entertainment, he has a great passion for Theater, Design and Photography. The combination of self-leadership and passion was what introduced and finally brought him to Hyper Island.
Learn more about the Lead Design program and apply
"Ever since I was little, I loved Photography and Theater. My parents introduced me to Theater early on and I was so fascinated by it, that I knew I wanted to work in Entertainment. Europe's biggest Musical and Theater company (Stage Entertainment) is based in Amsterdam, so it was an early dream of mine to work for them."
After High School, Jelle went straight to The Theater School in Rotterdam to pursue his dream of working in the entertainment industry. While studying, he realised that besides theater, he also had a deep interest in design. That's how he started his own company.
"I taught myself all the skills I needed. But I still really wanted to work for Stage Entertainment."
Jelle finally landed an internship at his dream employer during the final semester of his Bachelor. When he finished, he wanted to continue working there, but they couldn't offer him long-term employment. Instead, Jelle decided to continue studying at a traditional university in Breda.
"The Theater School was not a traditional school, but this university was. Theory, books, huge classrooms. I absolutely hated it. I quit after a few months and concentrated on freelancing instead. That way I could at least work with the things I was passionate about. Then I got lucky and was offered a short-term position a Stage Entertainment."
Jelle worked as an assistant Casting director and later had some other short-term positions. Finally, the Creative Director he had been working with previously asked him to become his personal assistant.
"We worked a lot with advertising agencies, but there was nobody in-house that could do the work. So I started collaborating very closely with agencies - a great way to deepen my design and photography skills. I worked in this position for 4 years and explored a bunch of possibilities. As it was a new position and we had a big budget, I could really experiment and my work had huge exposure. It was great!"
One day, Jelle found himself cycling through Amsterdam and saw a huge Billboard he had been involved with creating to advertise a show.
"It was an epiphany. I suddenly realized: This is what I want to do. I want to work with advertising."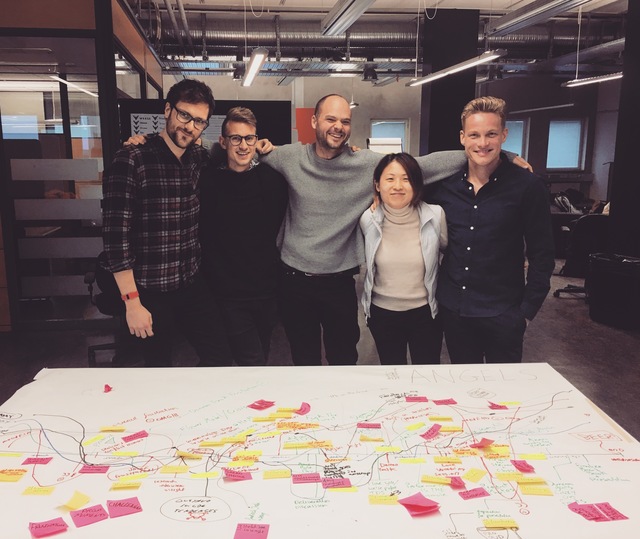 So far Jelle had only been focussed on making things "look nice". But working with agencies, he had learned that there was much more to creating great ads.
"The bigger picture is so much more important. The concept. The strategy. What story do I want to tell? The story makes the design interesting. I knew I needed to learn how to do these things somehow. I needed to make some big steps to get there."
Jelle asked the people he worked with where he could learn these type of skills.
"Everyone recommended this mysterious place called Hyper Island in Stockholm to me."
Jelle did his research and found the Design Lead program to be exactly what he needed. He applied, quit his job and focussed on freelancing to get more experience working on concepts and to save up some money to go to Hyper Island.
"I ended up working for some really great clients, such as Walt Disney and KLM. That gave me a lot of confidence, but I also found more and more skills I was lacking. It convinced me that joining Hyper Island was the right decision."
Jelle moved to Stockholm to start the IAD program in the autumn of 2016. It was his first experience living abroad.
"There are people from many different places at Hyper Island. It made the whole experience even more valuable. Everyone is welcoming. Working with people with so many different perspectives made things even more interesting."
Jelle explains that Hyper Island quickly fulfilled his expectations. He says that before Hyper Island he was exposed to so many different aspects of the creative industry, it was sometimes hard to focus. At Hyper Island, he finally learned to focus on what was important to him.
"I also learned that the advertising industry was undergoing a huge change to becoming more and more digital. Hyper Island was extremely valuable at teaching me to deal with this change and adapt my mindset for the future."
Hyper Island also helped Jelle to become more grounded and find his focus.
"Before Hyper Island, I was used to working in the glamorous world of celebrities and red carpets- a world of it's own. Hyper Island suddenly exposed me to a totally different environment. I learned to be more aware of myself and the world around me. It gave me space to become who I am now and look at things in a more wholesome way. It was very helpful at this point in my life."
Jelle says the most valuable thing he learned at Hyper Island is, that it all comes down to knowing yourself and what you really want to do. You need to find the motivation to do great work. It's the driving force, it's what will not only help you own what you learn and what you produce but also drive great things.
"Hyper Island was the right place for me at the right time. It was far from the traditional school I had dropped out of a few years back. It is the kind of education that supports and sparks, instead of just teaching."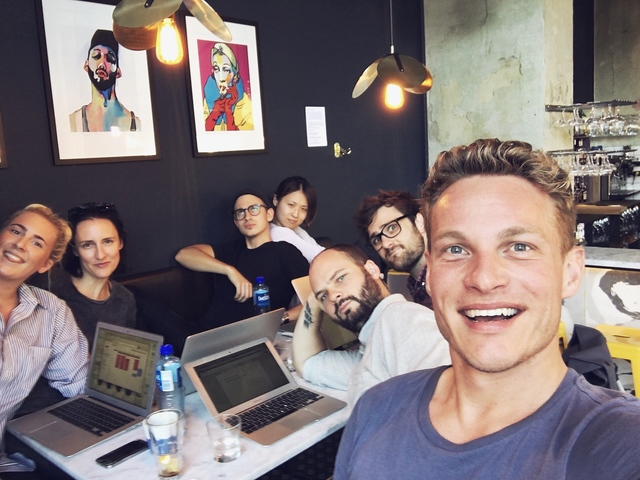 Jelle kept freelancing besides studying at Hyper Island. He says it was a great way to test his newly learned skills in the real world.
"It was a great way for me to keep one foot in the real world and continue to build my client base. But it was also a lot of pressure. However, Hyper Island taught me the right mindset to deal with this. I now know how to challenge briefs from multiple perspectives. I don't just look at the sale or the design, I look at everything else: the organization, the brand positions, the trends. It feels like my work has gained so many layers. And this is all thanks to Hyper Island. I feel ready now to work as an Art Director."
Jelle says he expected to learn way more hard skills in the Design Lead program. But in the end, he was able to learn these by himself. The soft skills, like leadership and team development, that he learned at Hyper Island are the true asset, he says.
"Hard skills I can learn anywhere - even on Youtube -, but not the soft skills it takes to thrive in this industry."
Jelle is currently hunting for an internship in his dream destination L.A. Thanks to the Hyper Island network he was able to get into contact with several agencies already.
"The Hyper Island brand is strong in the advertising space. It's not a golden ticket, but it will get you in contact with important people and help you get a foot in the door. Many agencies really appreciate the way Hyper Island alumni work."
If Jelle could say one thing to someone considering to study at Hyper Island, he would say:
"Hyper opened my eyes- not only towards myself but also towards the world. It made me hungry to explore more. Hyper Island is an introduction to the world. It boosts your ambition and provides you with the tools you need to succeed. It's really worth it - both on a professional and on a personal level. I'd do it again any minute."
Thanks for taking the time to speak to us, Jelle. We wish you all the best in L.A.! Check out Jelle's portfolio here.
---
Are you interested in learning the skills needed for a sustainable career in today's world? It doesn't matter where you're from, Hyper Island has a support network for students from many countries.
Learn more about the Lead Design program and apply