Interactive Art Director becomes Design Lead – Here's why
The former Interactive Art Director Program has gone through a name change and is now called 'Design Lead'. By changing its name, the program ensures that it will remain relevant for the future - and for industries outside of advertising.
##Meet Nico, who has been a member of the program steering committee for 7 years. Nico currently works for Microsoft in Seattle.
What's the future of the Design Lead Program?
The program differs from the other programs, especially because of the fact that you need a year of experience. It still has a broad focus though.
So my vision of the program is having a bunch of people with various experience, learning to work with Hyper Island tools and then going back out and implementing them. That's my romantic idea. One of the things I believe it lacks at the moment is a much more diverse pool of students. I think diversity would add even more value to the Hyper Island Way. The potential is limited if the people aren't diverse enough.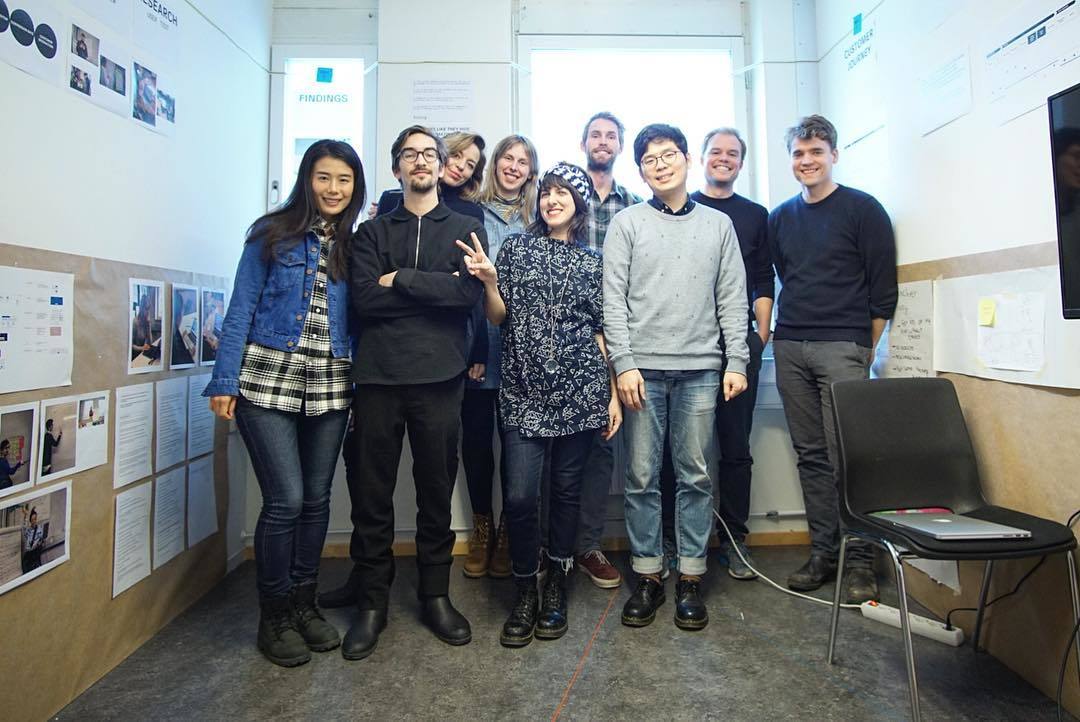 Picture by current student Jin Jae Lee
Tell us more about yourself. How did you end up at Hyper Island?
My name is Nico Nuzzaci, a half-Swede, half-Italian raised in Skellefteå in the north of Sweden. I studied at Hyper Island from 2002 to 2004. At the time, it was one of the only educational programs in Sweden with a primary focus on design for digital mediums. Prior to Hyper Island I played music.
What do you work with right now? What's your background?
I work as a Principal Design Manager for Microsoft in Seattle. After graduating from Hyper Island, I worked for 5 years at a design studio in London (POKE), then 3 years at a design firm in Stockholm (Doberman), and 5 years as a freelancer. I joined Microsoft in September 2015 (first Skype in London, and since April last year Microsoft Teams in Seattle).
When did you join the Design Lead Program committee and why?
Throughout the years I've kept contact with Hyper Island. Learning processes and skill acquisition is a passion of mine. In 2011, Program Director Åsa Höistad Jonsgården asked if I could come in and work with her on the learning outcomes for the then Interactive Art Director Program. They were in need of clarification. At some point after that session, she asked if I wanted to join the Steering Committee.
Why do you believe Design Lead is a better name for the program?
The main function of the program steering committee is to make sure that the program and its curriculum stay relevant to the needs of the industry. The members of the committee represent the industry.
The Interactive Art Director program was founded in 2008 — 9 years ago — and since then a lot of things have changed.
The original intent with the program was very much to appeal to the advertising industry and their deep pool of visual designers; provide them with a safe learning environment where they could find synergies between their existing experience, skill, and talent and learn how digital-first products and services are put together and run.
Already when I joined the steering committee in 2010, the majority of the students who applied didn't fit this formula. The applicant backgrounds were very diverse — copywriters, developers, strategists, managers, designers — and the majority didn't feed back into marketing and advertising, nor were they seeking employment at design agencies or design studios - let alone the role of an Art Director.
So the name — Interactive Art Director — didn't fit the content or reality anymore and the committee felt it was better to change the name to something with a longer shelf life than to revert the content of the course to apply to a smaller pool of people and a dated point of view. Using accurate terminology is one of the easiest ways to facilitate understanding and ensure expectations are met.
The need for workplaces to include digital skills as something central, instead of outsourcing it to experts, is what I believe to be one of the biggest transformative challenges facing Hyper Island' programs in their current format.
What's your main vision for the program moving forward?
Due to the fact that I now work as a designer at a large tech company and am living in the US — a market and profession where environment and requirements are very different from the Swedish market — I'm leaving the steering committee and giving room for people - like Abraham - who can represent the targeted profession and marketplace better.
Meet Abraham, who recently joined the program steering committee. Abraham is one of the founders of the Pop-up agency and embraces the digital nomad lifestyle.
Abraham grew up in Eritrea and spent his life living in France, Germany and, eventually, Sweden. He has a background in Law and Politics.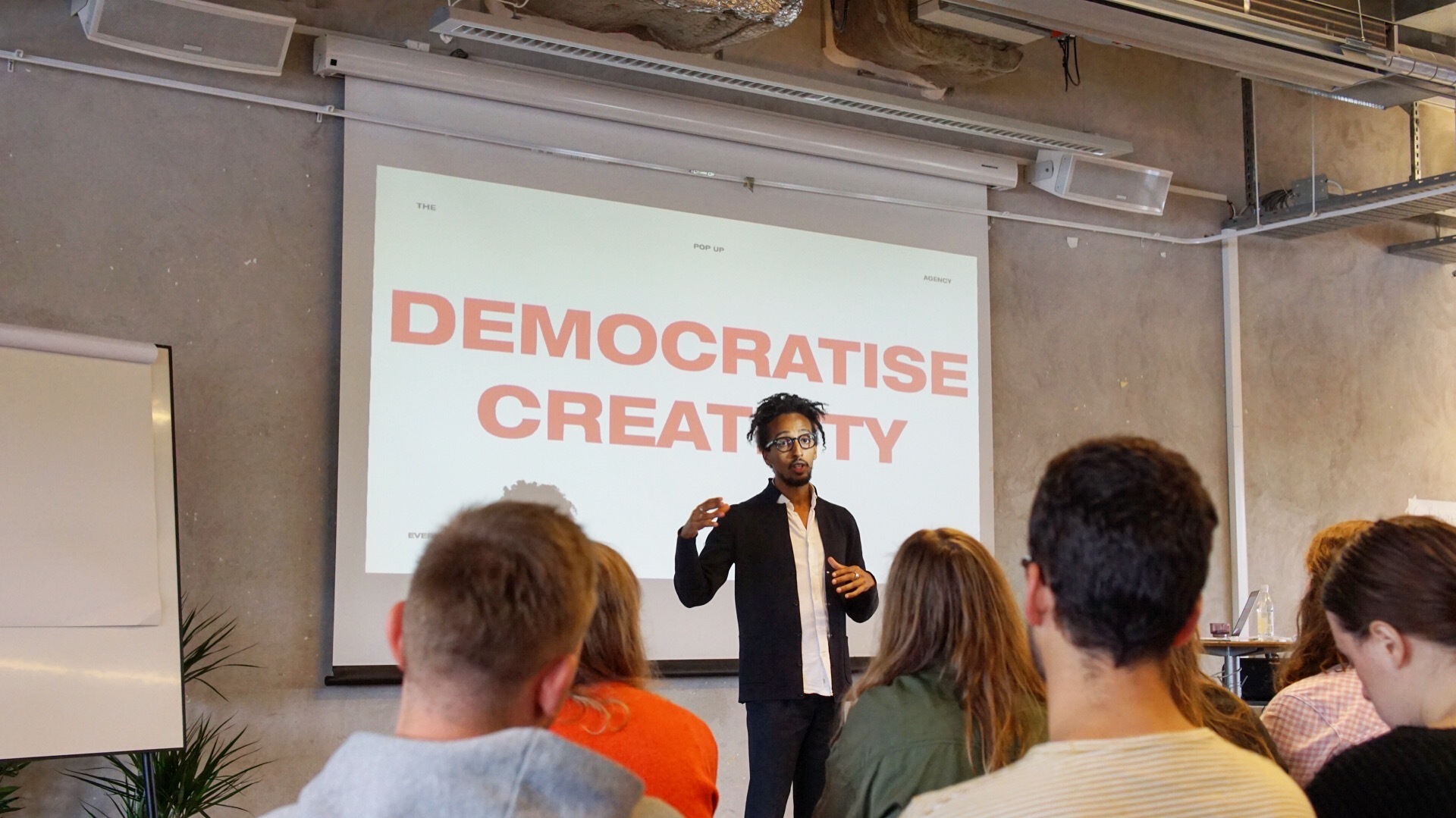 Picture by current student Jin Jae Lee
Who are you and how did you end up at Hyper Island?
Then my younger brother studied Digital Media Creative. He thought I should try out Hyper Island, as he felt that being a Lawyer didn't fit me. So I ended up at Hyper Island in 2012. It was the first time I studied something creative, so I was really nervous about it.
You founded the Pop-up agency. How did that come to be?
I really fell in love with the methodology. Eventually, some classmates and I launched the Pop-Up agency. We actually came up with the idea 2 weeks into the program and used the whole year at Hyper Island as a springboard. We're still going strong. We went from 6 founders to 2 founders, but it has been my full-time commitment since I left school.
How does that work?
We're known for solving briefs within 48h. At the core is our belief that everyone is creative and can be innovative. So we try to work outside of the creative industry as well. We try to work with a wide array of clients.
The business just flows quite nicely. We sell what we do, we develop what we do and we execute what we do. Right now, for example, our developing time is longer than it used to be. This is due to us shifting our business from being service based, to becoming more product based. It's hard to plan because we try to find a balance between being out and developing what we do.
You're now also Head of the Design Lead program steering committee at Hyper Island.
Yes, CR, the Program Manager, approached me. He's someone I'm still very, very close to. We've always been having a dialogue on how to improve things. I think it felt natural for him to approach me - as I already was sharing my ideas with him.
What does Design Lead mean to you?
Interactive Art Director is an outdated name. In 2018, Design Lead seems like a more relevant name. Everything is already interactive, we don't need that in the name.
A Design Lead can be very different depending on the company you work for. But I envision a Design lead to be the product manager of some sort with Design as his or her primary area of responsibility and their expertise being Research, Ideation and ironing out the actual solution. It's probably a very process-oriented person that also has an eye on the output. My perspective is very much coloured by my background as an entrepreneur and business owner, for a designer the vision may be different.
CHECK-OUT OUR NEW DESIGN LEAD PROGRAM PAGE
If you're interested in any of our long-term programs, please feel free to submit your application anytime if you're based outside of the Nordics (Sweden, Finland, Norway, Denmark and Faroe Islands). If you're based within the Nordics, applications open with the release of the 2018 Creative Task in January. Please reach out to us, if you have any questions or concerns.