"Some people say they are not creative - we disagree, everyone's a creative. It's just a matter of finding ways to unleash creativity. That's what we've set out to do"
It all started [part 1.]
August 2015, our first day at Hyper Island Stockholm. The sun was shining, anticipation sky high, a whiff of confusion lingered too and all of a sudden we found ourselves sharing the same journey. That's how Caroline and Emma first met, cliché? Yes absolutely, and we dislike clichés. But it doesn't make it untrue.
Together with 38 other admirable Digital Business students we jumped unknowingly, head first into what would be an intense year of mind-blowing exploration ... wrapped around chaotic deadlines, endless post-its and unforgettable 'love-bombings'.
A module entitled "Your Own Project" was the last obstacle to clear before a summer of much needed relaxation and more importantly, before we ventured away to our internships. The guidelines were simple - one month to focus on whatever you wanted to develop further in. The Swedish winter had been long (as you know), which led to lots of discussions, and those sessions unearthed a realisation, that the both of us felt deeply anchored to a calling -
To Challenge Ourselves and Step Outside our Comfort Zones
It all started [part 2]
Here's where this story really started, at Emma's apartment on a rainy evening in March 2016, over a bottle of wine and candle lit dinner, no less. We had both been involved in non-profit organisations in our earlier years and saw this project as a great opportunity to combine the know-hows and experiences we've gained during our year at Hyper Island with our passion for social change.
After lots of big dreaming and laughter, we came to the conclusion that our condensed goals were to :
Inspire social change by applying our learnings on the dynamics of team and creative processes
Develop within facilitation and process design
Share our knowledge and learnings from Hyper Island with others
These objectives would be delivered through designing and facilitating workshops that focussed on unleashing creativity in the individual and team, in the direction of social innovation. We thus baptised our project - UNLEASH CREATIVITY
"By unleashing the creativity of people and organizations, we support them in finding new and innovative solutions to the challenges they're facing. Solutions that can create a better world"
So, feeling the gust of 'mission accomplished' on that drawing table, where would we go from here? We wanted to be in a place where the language would not be a barrier and a continent where Hyper Island did not already have a presence. We looked to the globe and decided we would go to Cape Town, South Africa! Within 20 min the flight tickets were booked.
This was it. A bottle of wine later, an evening of project ideation and we were off to Cape Town.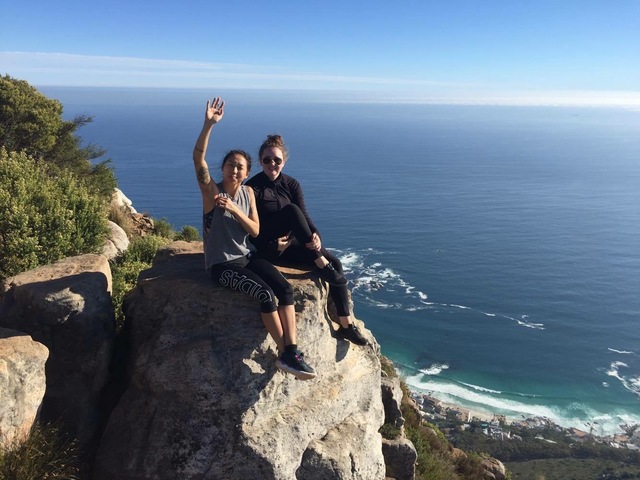 It all whizzed by so quickly after that evening. There was the prep; setting up a website, reaching out to people and building a tight team-spirit between us that would form the bedrock of our combined efforts. We started with a classic Hyper Island tool straight from its toolbox, the Point of Departure, to make sure we were on the same page when it came to expectations and goals. Other things we took into account were our strengths and weaknesses and how we could work with them to complement and support each other.
Next it was time to reach out to the Hyper Island network where we received wonderful encouragement, great advice and leads that led to us successfully booking 3 workshops in Cape Town ahead of time. To test ours skills and collaboration out, we designed and facilitated a creative workshop for the Åhléns market department in Stockholm before we left, which was a great experience.
But the grand adventure was ahead of us, beckoning.
So the journey finally began with a 16 hour flight on May 1st, 2016. Once in Cape Town we had an unsettling first impression. As we drove from the airport, an extensive area of townships with vast shacks emerged. We passed some of the poorest areas of Cape Town which abounded as a result of the historical apartheid.
Not fully registering what we had witnessed, it took yet another 20 minutes for another twist as we arrived in the City Bowl with its stunning view of Table mountain, the Ocean, gated mansions and nicely paved beach boardwalks. It was like entering a new country. 'Circumstantial-travelling' within such a short space of time made it a bizarre yet interesting experience and our curiosity for Cape Town, its history and culture, grew even stronger.
We had our first workshop with the creative school Red&Yellow 3 days upon arrival, so the first 2 days were all about preparing. They'd asked us to conduct a presentation about ourselves and Hyper Island for all the students and teachers at the school. We had no idea what to expect and there we were standing in front of a hundred or so crowd. It was a nerve wracking at first but their warmth and enthusiasm gave us much needed energy and composure.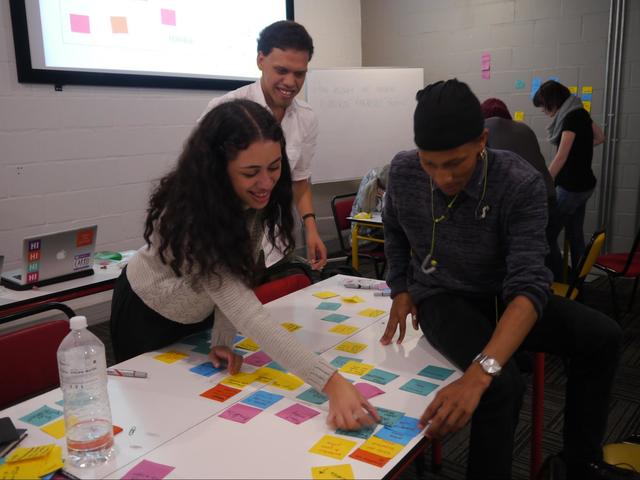 The days whizzed by quickly, our schedules kept a buzzing. We had another 5 workshops to design and facilitate and at the same time we wanted to explore the city, learn more about the culture and dig deeper into the startup and social entrepreneurial spirit of Cape Town.
We met with inspiring people working on their startups, went to a sustainable brands conference, hiked up Lion's Head, you name it. We also had the opportunity to meet up with the Kaospilots who did their 3 months outpost in Cape Town and it was through their recommendations that we got to experience our first Dine. Have you not dined before? You may think to yourself. No, not like this.
A "Dine with Khayelitsha" was more than just good food and drinks. It was a unique opportunity for us to widen our perspective around the cultural context in Cape Town, beyond the vineyards and mountain views.
The experience of being welcomed into the home of a family living in Khayelitsha, sharing a local meal while discussing important topics on how to curb the socioeconomic gaps and break ethnic barriers which persist, felt meaningful and one of genuine connection. The evening was organised by a group of young social entrepreneurs who grew up in the township with the goal to drive change in their society by creating a space for people to gain new perspectives by sharing and learning from each other.
We left feeling energized and inspired, also curious to find out more so we invited "Pumi", one of the co-founders of "Dine with" to share the story behind the social initiative and learnings that the group gleaned along the way, in an episode of Digital Business podcast HyperTalks. We highly recommend it!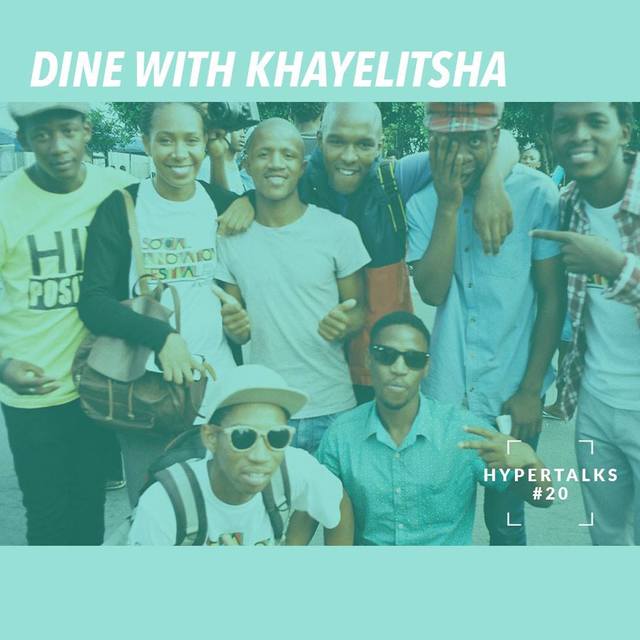 Prior to attending our first Dine, we had visited the Vega school of Design and Marketing and met with a wonderful class and their amazing teacher Thys, to introduce ourselves and delve a little into the creative workshop we were going to facilitate for them a week later.
In between that, we had gone to "Dine with Khayelitsha" which had left a big impression on us and gave us the courage to take a step further out of our comfort zones. We were designing the workshop for the Vega students and decided to adopt a more daring approach, knowing that what we were about to do could possibly stir up a lot of emotions and frictions.
However we wanted to truly seize the opportunity we had with these ambitious and intelligent students, by challenging not only them but ourselves. It was a nervous moment standing before the class to present a challenge they were going to design solutions for…
"How might we bridge the gap between the townships and the city"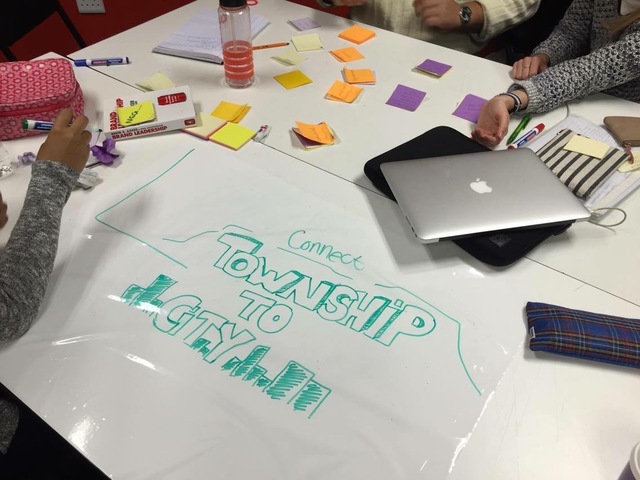 Silence ensued. But that didn't last long. Bearing in mind we were in a country where topics pertaining to apartheid or societal issues were of a sensitive nature, we wanted to ensure everyone felt comfortable with the problem statement at hand. They agreed, and so the day started. It culminated in an incredible workshop that returned tons of great ideas. What was magical for us was to be able to share in and facilitate a day filled with so much respect, bravery and openness.
Our month in Cape Town was an unforgettable adventure that brought us countless moments of joy, gratitude, surprises and learnings that we would not be privileged to have if we had not been fostered the "Hyper way". It sounds cheesy but the tools and mindset that Hyper Island endowed us with helped form the backbone of our project.
It's funny how change can be hard to see when you're in its midst, but once you get out of the bubble it becomes crystal clear how much you've grown as an individual and a team member in the short space of a year.
Here are some of our biggest learnings so far
Make the ask- Reach out to people! Use the power of your network, be clear about what you want or need from them and how they can help you - just make the ask, people usually love to support others.

Get in bed with your team - Openness and sharing cuts at the very fabric of strong relationships and mutual respect. When you know each other you feel safe and can both receive and give the (sometimes harsh) feedback that's needed in order to reach success.

You're never the smartest person in the room- Be humble, build on each other's ideas and make use of the real power of collective intellect

Always feel people- Listening is key, but we would add that being attentive to the unsaid whilst making it easy to bring potentially difficult conversations to the table can help avert a potential conflict or raise new opportunities

Know your limits, but push them - The only way to grow is to make that step outside your comfort zone and try something new.

Iterate, iterate, iterate - NOTHING is set in stone - there's always room for small improvements.
Stay Sunny and Go Make your Mark!
Emma & Caroline
---
About Caroline and Emma: Caroline Halvardsson and Emma Ohlsson are students from the Digital Business program at Hyper Island in Stockholm.
They're currently doing their internships, Caroline as an Experience Designer at Mobiento/Deloitte Digital and Emma as a Change Facilitator at Doberman. If you'd like to work with them or get in touch, shoot an email to caroline.halvardsson@hyperisland.se or emma.ohlsson@hyperisland.se.