We met Digital Data Strategist student Gül, 35 years old, who moved to Sweden from the Netherlands for love. She never expected what an impact the move would have on her career - and how Hyper Island would help her accelerate it.
BECOME A DIGITAL DATA STRATEGIST
Who are you, Gül?
It's actually really hard to explain who I am because I always feel like I'm still on a journey to figuring that out. During the last 5 years that I spent in Sweden, I faced some really challenging situations that shaped me. I'm a very low-key person. I like being in nature with my family. I'm a people-person too. I really don't think I'm that complicated. However, I am ambitious. If I set my mind to something, I really go for it.
I always try to make the best of everything.
What was the last big goal you set for yourself?
I have several small goals at the moment. I've realized, specifically being a mother, it's difficult to reach a big, overarching goal. You need to set yourself some milestones.
For example, when I set my mind on going to Hyper Island I had to do a few things to get there, those things were my milestones. I believe milestones are the key to avoiding big disappointments because it's easier to re-navigate if something goes wrong.
How did you end up at Hyper Island?
So, I was studying at Berghs and the MIT online when I met someone who was studying at Hyper Island.
I was in a position where I knew I wanted to go further with what I was learning but I didn't know how and I really didn't want to go to a traditional school. This guy told me about Hyper Island and how people learn there. It sounded amazing to me and so I just applied. Right away, I felt comfortable enough to decide that I wanted to go for it. When I got admitted, it really felt like a new life started. I was so excited.
Why did you get so excited?
It's all about the journey I was on. I had studied in the Netherlands and had accumulated several years of work experience. I applied for jobs in Sweden but I lost count of all the interviews I had without being offered a job. Instead of getting discouraged or feeling embarrassed, I tried to figure out what I was doing wrong. That's when I started to invest more time in educating myself.
I previously had a degree in Fashion and realized more and more, that maybe I had to change industry. I started studying online and at different schools. That's when stuff started happening for me. I got contacts, learned to know a lot of people and finally, opportunities. That continuous struggle was hard, but in the end rewarding. Now at Hyper Island, all the puzzle pieces are starting to fit together.
After 5 years in Sweden, I'm happy. I feel like I've arrived. Things make sense now.
I try to encourage the people in my class and, in general, all the people around me to just go for whatever they feel they need to do. Deal with struggle, challenge yourself, but stay true to yourself. That's the type of growth I believe in.
Have you adapted any Hyper Island tools for yourself?
Actually, every 2 weeks I do a check in with myself. I reflect on what I've experienced and how I feel about it. I ask myself 'am I happy, am I doing the things I want to do, am I surrounded by the people I love?'. That has really helped me stay on track.
Why did you decide to study Digital Data Strategist?
I really got into data during all of my earlier education. It's exciting. At the risk of making overly bold statements, the tools for handling large amounts of data and doing analytics are quite possibly advancing more rapidly than any other technology field today. With better tools, comes a better understanding of how we should be doing analytics and how we should use the resulting information, all of which is evolving extremely fast. The fact that you can create so many services just by analysing data - I love that! It's a field of endless opportunities. I'm very organized and structured and I think that's why I'm drawn to numbers. It gives me so much energy to explore data!
Before, when I was working in fashion, I already felt that I had to do something else. Now, working with data, I know I will have the sexiest job for the rest of my life in a field that will stay interesting and keep developing in terms of work.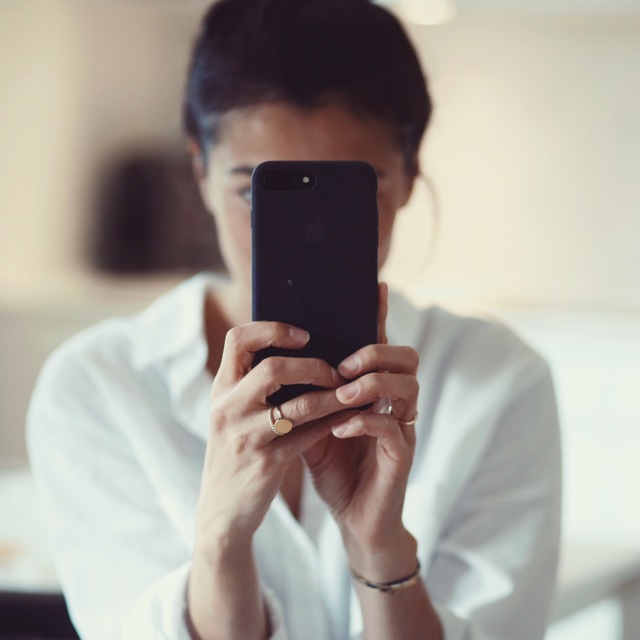 What's the best thing about Hyper Island? Favorite learning experience?
It's several things. Definitely, the community is one. Then the methodology, the way of learning. As a student, I can bring a lot of input and form the education. For example, I invited several lecturers myself. Everyone is very flexible and open to learning and new experiences.
I also really love that we get to work with real clients and that the industry leaders are actually from the industry. The information you get from them adds significant value to what you're learning.
Is there anything else you want to tell us?
Before I applied at Hyper Island, I read the blog, especially all the student stories, and I really wanted to be there too. I wanted to share my story. Back then, I already had a feeling that Hyper Island would impact me. I'm so happy I got to share everything now and hope to motivate future students to come here!
---
APPLY TO A FULL-TIME PROGRAM IN SWEDEN
If you're interested in any of our long-term programs, please feel free to submit your application anytime if you're based outside of the Nordics (Sweden, Finland, Norway, Denmark and Faroe Islands). If you're based within the Nordics, applications open with the release of the 2018 Creative Task in January. Please reach out to us, if you have any questions or concerns.