Maja is a neighbor to Hyper Island Stockholm, living only a few hundred meters away from campus in Hägersten. She is originally from Uppsala but moved to Stockholm for her Bachelor in Advertising and PR. Now she is studying our part-time MA in Stockholm.
* We offer students that confirm a seat in this program before December 20th 2017 a 10.000 SEK discount on the program free. This offer is limited in quantity, hence we urge you to apply as early as possible.
"I applied for two different courses: Advertising and PR was one of them, Spanish the other. Luckily I got into the first course, and I just loved it."
During her Bachelor, she was able to choose her own courses. Starting off with courses in Psychology, she quickly started noticing the increased popularity of Social Media. That's why she started taking courses about Digital Environment, a turning point for her that sparked her interest in anything digital. "Social Media was like sorcery to both the academic world and for companies back then, I was super intrigued by its impact." Maja wrote her thesis on how non-profit organizations can profit from using social media with the Swedish GMO Equalisters as a case study. After she finished her Bachelor, they hired her as their community manager.
For Maja, this was her entry into the world of digital communication and PR. She quickly discovered her passion for forming public opinions and contributing to positive societal change. Hence, her next job was at a PR Agency where she got to work with many different clients on versatile projects. "I love being a consultant. You get to learn so much about so many different things."
A Lifelong Learning Journey
It was then, that Maja first thought about getting additional education, focused on digital. Once she started talking to people about it, most of them recommended Hyper Island. Shortly after, she took a short course in Digital Strategy at Hyper Island in Stockholm. "It wasn't at all what I had expected but it was the coolest experience ever. I loved the new mindset and I learned to look at and think about digital from a whole new perspective. Digital is so much more than instrumental."
From the day the course was finished, Maja wanted to go back to Hyper Island to study more. "I did want to get a Master's some day so I got very psyched about the idea to get it at Hyper Island. I heard about the Digital Management MA and applied two years after the first course I did."
When Maja got admitted to the part-time MA, she knew what to expect. "This time around I knew more of what to expect. For example, at Hyper Island there is a lot of emphasis on building a strong team and creating a solid group culture. That's something that surprised me during the short course because I thought it would be less about people and more about tech. Now I know that digital is all about people. We did a bunch of cool group tasks to strengthen our collaborations. It was exactly what I wanted. I wanted to get away from everyday work and take the helicopter perspective on what's happening. What are we talking about when we talk about business transformation? What trends are there and what do they mean? How do they impact my work or the work of my clients?"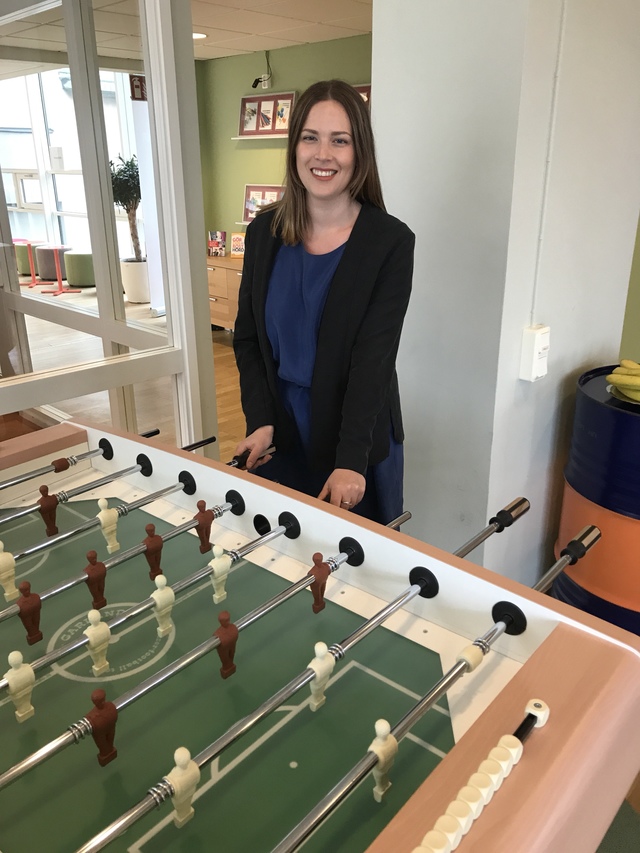 Maja in her office space
Integrating Studies and Work
Maja explains that her learnings help her improve her work-life and enlighten her coworkers, as well as also helping her understand macro trends and become a better PR advisor in general. "I feel like I've grown a lot as a strategic advisor. And I'm only halfway into the MA, so imagine what an amazing advisor I'll be once I'm done."
She says that on a personal level, she's developed her leadership skills a great deal. "Self Leadership is something you really perfect at Hyper Island. I'm used to slipping into different roles, but I've become even better at adapting to different roles and what's needed in a group - both managing myself and others. My view of what a leader is has changed. I try to make myself as redundant as possible when I'm leading a team. There are still only a few leaders that look at leadership that way."
Maja brought in some practical tools at work at the PR Agency Westander as well. Her co-workers now check-in and reflect. "I use different types of canvases and tools to facilitate communication. My workplace is the perfect breeding ground to try these different tools because my manager is there to coach me and the work climate is very open and feedback-orientated. Our unofficial motto is change, renew and improve. I have all the possibilities in the world to go in and bring my Hyper Island backpack with me."
Maja works 100% and studies about 25%. For her, these are two separate things that she integrates in her own way. "Everything I write for school is about my job, but I don't use office hours for it. Everything I learn I apply to my work so that I and my team develop. Everyone gets a slightly improved version of me after every content block."
Maja values not just what she learns but also how she learn it. "I was looking at other Masters too but none of them allowed me to work or apply my learnings in the same way I can do it here at Hyper Island. It feels very integrated and is easy to merge with work. Other Master's aren't like that. And also, it really isn't just any Masters, it's an experience that makes you grow as a person. I recommend it to everyone."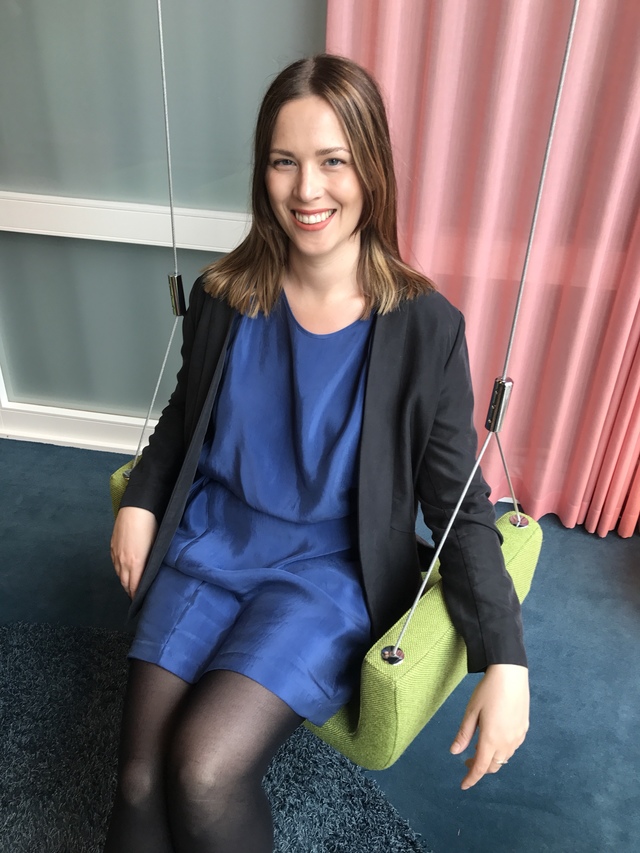 Maja in her office space in central Stockholm
An experience for anyone
Maja can't pinpoint one pivotal experience during her learning journey. She says that the entire experience is valuable and that what it comes back to is that regardless of what course she is having, it's evident that one must put people at the core. "Digital technology is nothing if it doesn't do anything for the individual. You need empathy and everything needs to be user-centric. I like to think that the Digital Age is the Age of Empathy."
After Maja finishes her MA, she wants to merge her two main interests - communication and people - with her digital knowledge. "I want to get into the middle between the three." She imagines in the future her title could be something along the lines of 'Culture Designer'. "I want to sit less at my computer and stand more in front of people, motivating them."
Maja explains that she dreams about a world where digital is not a word anymore because it's so integrated into everything that it becomes natural. "I believe once people understand that everything is digital, we'll stop talking about it."
---
Part-time MA students come to campus one weekend a month. Typically they have intro weekends and outro weekends and between these weekends they work on group projects. Afterward, they all write an individual paper reflecting on their learnings. Besides reading, you can immerse yourself in the different topics in many ways, like e.g. by listening to Ted Talks or Podcasts.
If you're interested in the part-time MA in Stockholm, please reach out to Sophie Wesslau at sophie.wesslau@hyperisland.com. We also offer this program in London and Singapore.
* We offer students that confirm a seat in this program before December 20th 2017 a 10.000 SEK discount on the program free. This offer is limited in quantity, hence we urge you to apply as early as possible.