Hyper Island + Made By Many Studio: How do we design designers?
'How do we design designers?' was the topic on our minds on Thursday night at our most recent collaborative Hyper Island Studio event.
The event was a partnership with Made by Many, discussing and debating the future of design education and what skills designers of the future will need.
These Studios are Hyper Island's way of bringing together a new group of people to meet Hyper Island, industry, to share and learn together.
The role of a designer is changing
The evening started with an introduction from Lauren Currie, MA Experience Design programme leader, on how the role of a designer is changing and what this means for design education. This is a topic close to Lauren's heart, she recently spoke to Digital Arts Magazine about her vision for Hyper Island's new MA in Experience Design. A quick show of hands revealed that less than half of the group felt their degrees had prepared them for the roles they were doing today.
This is a timely discussion to be having in light of the Design Council's recent project, which brought together twenty leading figures from industry and education to talk about how to make design education better.
Hyper Island's new MA was designed in close collaboration with industry. Lauren has been asking key stakeholders from the field what they feel is missing from design education to inform the content delivered to the students and hopefully facilitate an industry-wide conversation.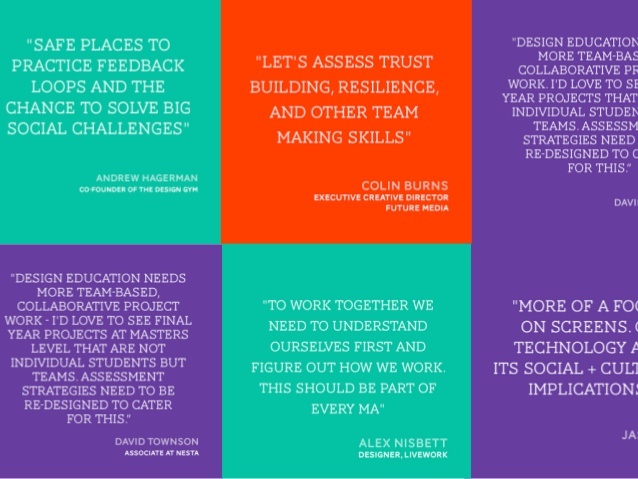 Conversations with industry revealed some key themes:
Mindset
Industry is on the hunt for designers who stand for something. Graduates who have strong points of view about the work they are putting out into the world and why.
Collaboration
Design isn't something that designers do alone. Student designers must be encouraged and supported to work with non-designers and respond to the challenges and opportunities this presents. Graduates must know when to collaborate and with who. The role of a designer as a facilitator is gaining more traction.
At Hyper Island, our programmes are all designed in collaboration with industry leaders to respond directly to both current needs and future challenges. We recently launched our online toolbox to share our Hyper Island methodology with students, alumni and industry partners alike.
Life Long Learning
Renowned service designer, Arne Van Oosterom shared a sentiment that is shared by many leaders in this field;
"We don't need schools that produce designers that fit into neatly labelled boxes. We need systems that facilitate life-long learning."
At Hyper Island learning isn't contained in a classroom or a course. Learning is a way of life: being constantly engaged, passionate, trusting and curious about the changing world, and learning by doing.
Real World Experience
Live projects. Tutors from industry. Real feedback. Ideas that would survive in the real world. It's time for education to reflect reality. We need to ask ourselves the questions that matter and stop doing things as they have always been done. Is a 'show' the best way the showcase the talent and skillset of a designer?
At Hyper Island, we collaborate with thought leaders and experts to anticipate industry needs in a world where innovation drives disruption. We may not be able to predict the future, but we can support individuals and companies to be ready when it comes.
Deep understanding of ourselves
To work together, we need to understand ourselves first. What if we assessed trust building and resilience?
Collaboration, inclusion and transparency are crucial to growth. Through constant feedback and deep reflection, individuals gain deeper self-awareness, enabling them to become more effective team members and leaders.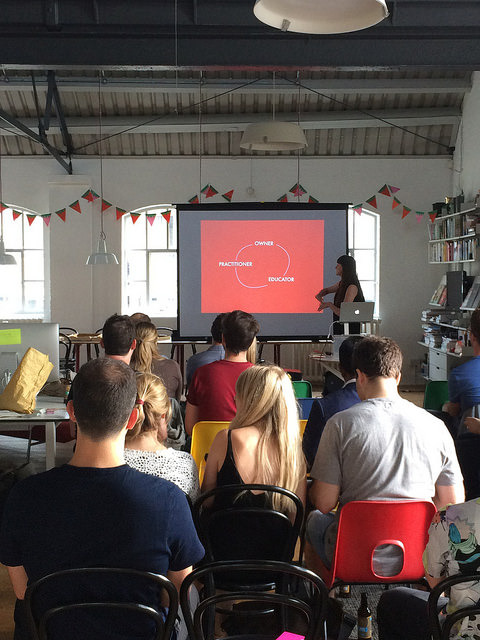 Next up, Tom White, Senior Designer at Made by Many talked about the skills and talents Made by Many looks for in new hires and how they structure their design teams.
Made by Many encourage their team to develop an understanding of other areas of the agency that may not be their area of expertise. This approach encourages designers to think about strategy, strategists to think about development, developers to think about visual design and so on.
Tom was challenged by the audience on the role of a designer in business development and how you upskill a junior designer to focus on more strategic areas like business design.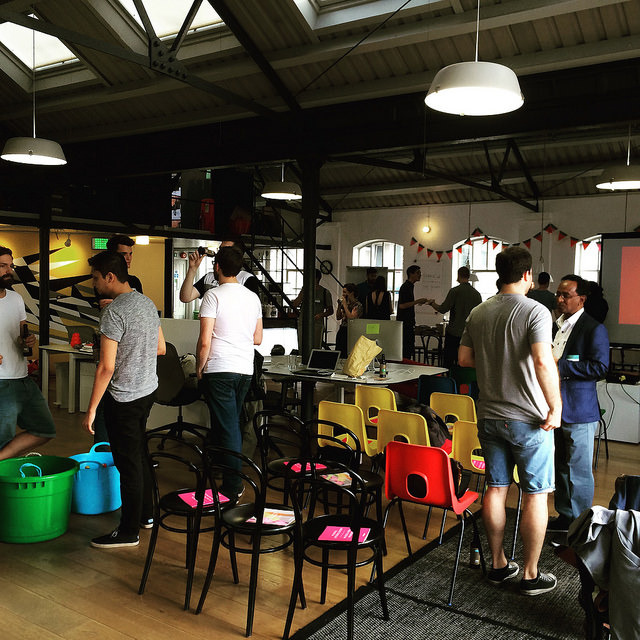 We then kicked off a hands-on session reflecting on the future skills and attributes of designers; sketching, prioritisation, prototyping, testing and importantly working as a team. Each team was given a problem statement, and each team was facilitated by a Made by Many designers.
We started by having teams create a discussion guide and interviewing an actual customer (we took some liberties here due to timelines, in reality we would never just interview one person). This is because we believe asking the right questions is hugely important to effectively gaining insights. From there the teams synthesised the results and used them as a basis for a sketching session. The teams then had to refine their ideas and complete a mini lean canvas exercise (we liked to call it a "mean" canvas), detailing the user need it meets, the failings of the current solution, their unique value proposition and most importantly, what would they would do next.
Each team then pitched their idea back to the room in 3 minutes, with ideas around connecting families in different global locations and across different generations, tailoring fitness classes to suit different levels of ability, how to make budget management effortless and methods to improve how books are recommended in today's digital world:
There were a really diverse mix of approaches and ideas, informed by the range of backgrounds of the attendees, a team from Barclays Accelerator, friends from Sapient Nitro and some of our very own Hyper Island alumni in amongst the crowd.
And in true Hyper Island style we finished with a checkout, giving everyone the chance to reflect on what they'd learnt and identified what tools they would take away from the evening and into their workplace.
Checking-out is a simple way for a team to close a process, symbolically and in a collaborative way. Checking-out invites each member in a group to be present, seen and heard, and to express a reflection or a feeling. Why not try this (and also checking-in) with your team to get the most out of your meetings and projects.
We heard check out's of:
"Reminder of how much a group of strangers can achieve in a short period."
"Inspired by the power of being user centered throughout the entire design process."
We want to say a huge thanks to Isaac Pinnock, Tom White and the Made by Many team for their hard work and support to make this event happen and hosting us in their beautiful studio space.
---
Applications are now open for our MA Digital Experience Design Programme. Click here to apply.