Hyper Island's growing hub in Amsterdam just completed their fifth course in Digital Innovation to help get recent Dutch graduates industry ready. The course is built up by three modules focusing on design thinking, marketing and exploring technology with the purpose to extend strategic knowledge. By exploring current and emerging technology trends, students produce research-informed prototypes that are designed to solve real-world issues. After two weeks of Design Thinking and Marketing themselves, the Amsterdam Digital Innovation Crew made an 180 degree turn to technology and coding.
DIGITAL INNOVATION WITH BSSA
My class and I - Lara Ploum - expected to learn about new technologies that are being used today in the creative industry. Instead, we deep-dived into the very core of technology with the guidance of Ubi de Feo, a curious Italian engineer, and Pistachio ice-cream lover. We had two weeks to develop a critical understanding of the opportunities, challenges, and complexities of digital technologies for organizations, clients, consumers and society.
To kick off the module, we had the opportunity to play around with 'little bits'. These are small components that you can attach to each other and make different installations with. This way you can create a small light, a propellor or a speaker. The latter really awoke the inner DJ in some of us, and also lead to deafness and some annoyance for the listeners of these beautiful sound creations. Although the purpose was just to get acquainted with technology, it made me realize that technology is the basis of creating awesome stuff such as music, light, and movement.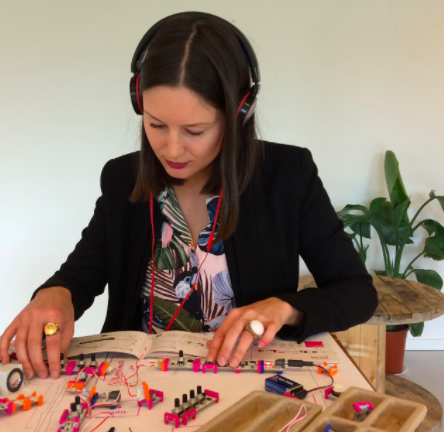 Ubi develops his own methods to explain really complicated things in a more tangible, down-to-earth fashion. This means asking volunteers in front of the class to serve as 'coding bits' to explain how the counting in bits works. This unique human experiment made it much more tangible and understandable! After some insights on the crazy knowledge of Ubi, we started experimenting with a hardware device named 'the Arduino'. This is a small computer chip looking device on which you can put small LED lamps. Next, you can attach it to your PC which you can use to program the Arduino. When you upload the coding to the Arduino, the lights will start burning (or melting...) in the order and tempo that you programmed them too. Speaking of the power of technology...
After experimenting with the Arduino and creating multiple setups, we had to start planning for our Exhibition. We got the assignment to create 'things' with technology with the theme 'Sensor your senses'. Very challenging, but after experimenting with the Arduino we had some inspiration on the possibilities of technology. We used the knowledge we had about the Arduino to come up with creative concepts. After two weeks of exploring, learning and testing, we managed to set up an exhibition with four awesome technology projects: a matchmaking sensor that could tell if the two people holding it would be a match; a bear whose heart would light up if the two people holding it were sending enough love to each other; a button system where choosing a particular button would show you your personality; and an experiment on the overload of technology relating to stress.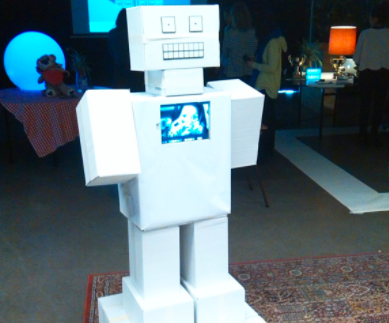 Here's a little video showcasing our thoughts and feelings during the module:
Although it might have been confusing at first it is amazing what we were able to create after only two weeks of exploring technology. With the help of Ubi, we really had a hands-on exploration of how to create impactful experiences through technology, valuable lessons which we could take back into our traineeships.
If you're reading this and feel as if you're up for a creative adventure too and ready to explore some tech, read more about our Amsterdam program:
DIGITAL INNOVATION WITH BSSA
---
About the writer:
Lara Ploum is a student at Hyper Island Amsterdam. After graduating in Psychology and working as a freelance trainer, she decided to follow her curiosity to the creative industry. She loves using her human understanding in the creative process by making a strong strategy to influence people.