Hyper Island Amsterdam Crew – Fixing the Broken Food System for Oxfam.
Hyper Island's foray into Amsterdam- facilitating courses for the young and unemployed Dutch graduates in the field of Experience Design is alive and kicking with gusto. This story covers the second module which students were challenged with.
The focus in this module was business strategy. Industry professional Carola Verschoor covered the business model canvas, value propositions, stakeholder mapping and other useful tools in order to show how brands can come up with an extra layer of value, integrated in their strategy and campaigns.
In the Design Thinking and Understanding modules, the Crew learned how to run through the creative process, come up with great ideas - grounded in human insight. With this module they learned how to make sure these ideas could stand strong in reality - they were sensitive to commercial needs, fit business aims, companies would invest in them and consumers would buy into them.
This theory could be instantly applied as the second brief we received was one for charity organisation Oxfam. The brief was aimed at a new strategy for Oxfam's current GROW campaign which is focussed on the broken food system world wide. A lot of factors contribute toward the broken food system such as land grabs, food waste, women inequality etc. These form the main reasons as to why Oxfam is seeking out overarching tactics to use in their campaigns - with the objective of mobilizing audiences.
With only 48 hours to complete this task, accompanied by our programme leader Emily Hinks, the class split in groups and started working right away. Business models were filled in over and over again, accordingly with some empathy and stakeholder maps to come up with the ultimate value proposition. From there, it was time for some ideation sessions to lockdown strategy and come up with interesting results that could be used in a campaign.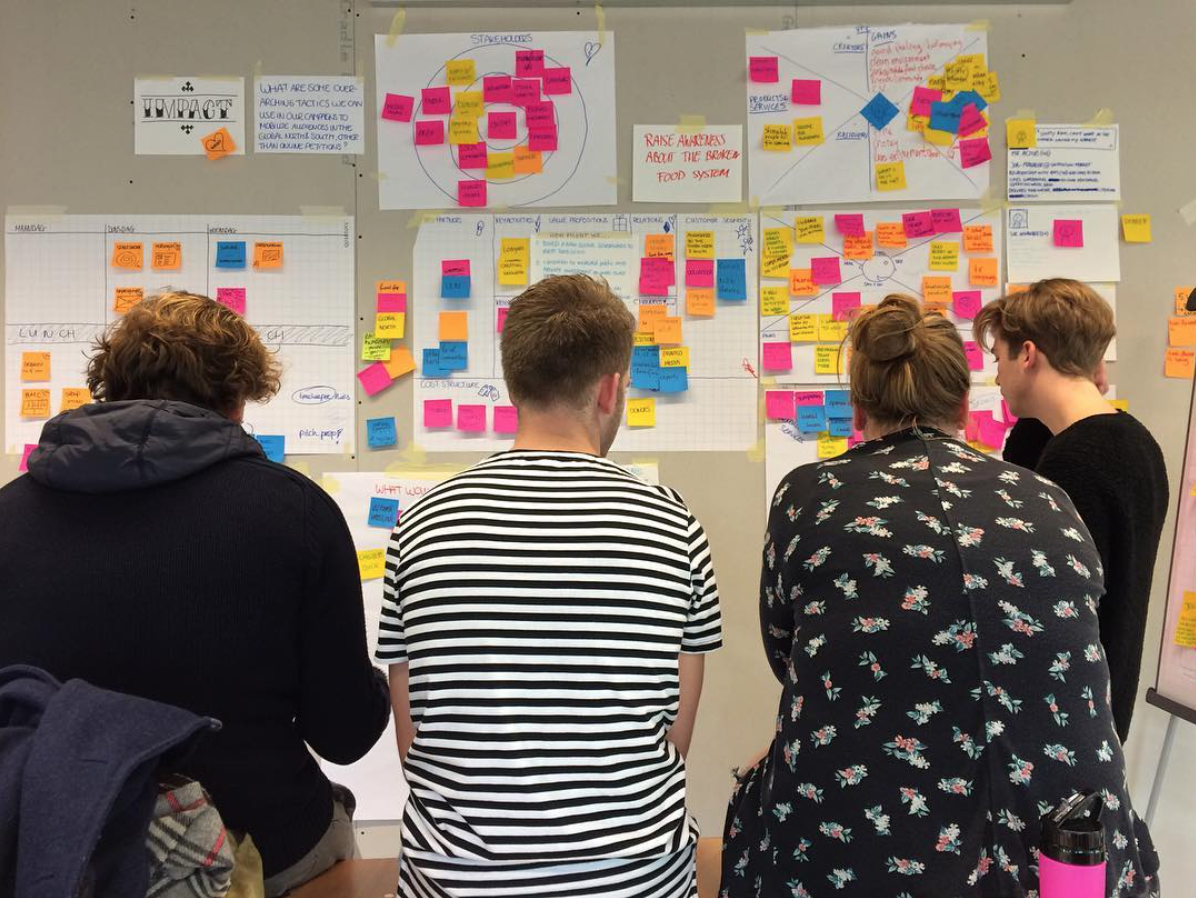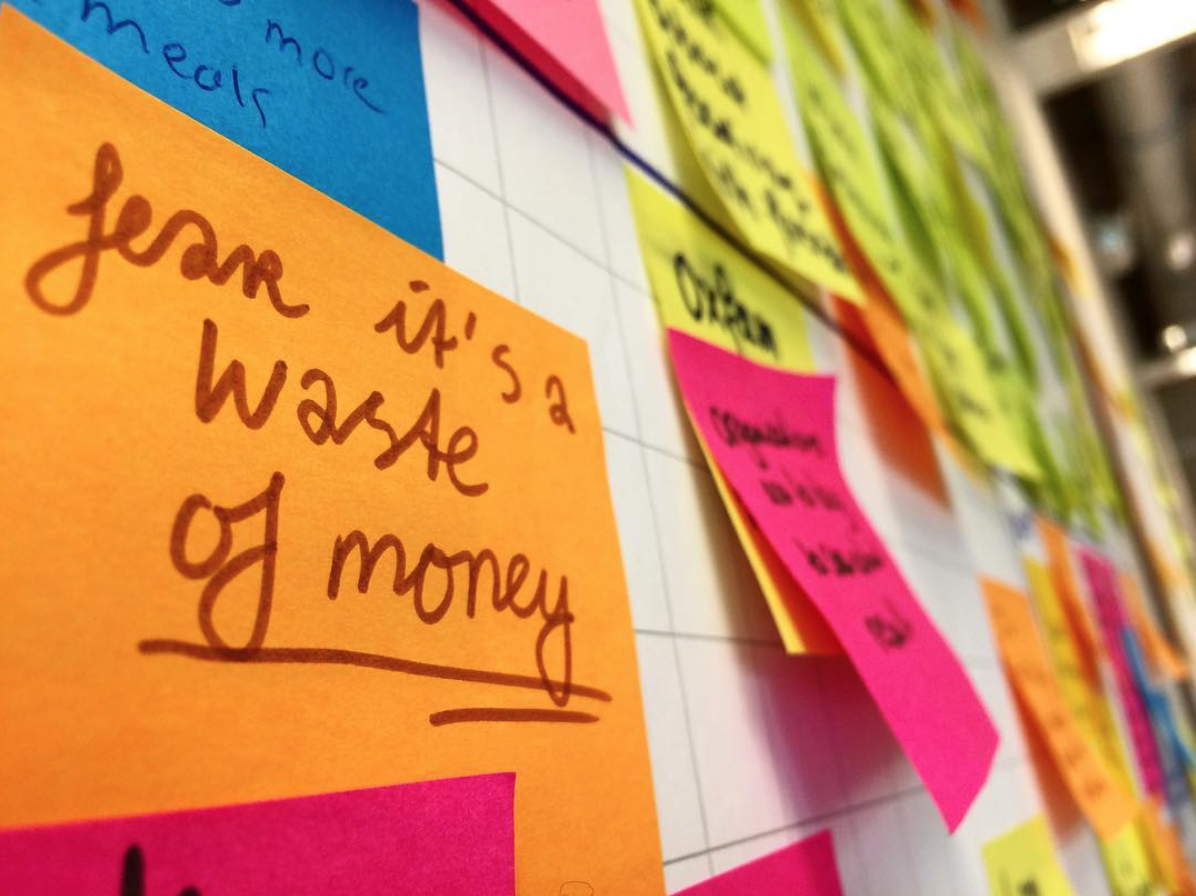 Here's an overview of all the good stuff we came up with:
Group 1: The Seeds Campaign: Oxfarm
Nadine, Joost, Tristan, Rosa and Maxime discovered that people often aren't aware of where their food come from and secondly that they often feel like they can't make a change because the impact of their actions are insignificant. That's how they came up with a campaign to intrinsically motivate people in order to create a behavioural change: The Oxfarm, an urban farm where people get the chance to adopt a local animal. The animal could be adopted by a group of people or friends. In return, they'll retrieve products coming from that specific animal. By doing this, people instantly know how their food's made and where their products come from. This behavioural change will have a positive effect on the current food system.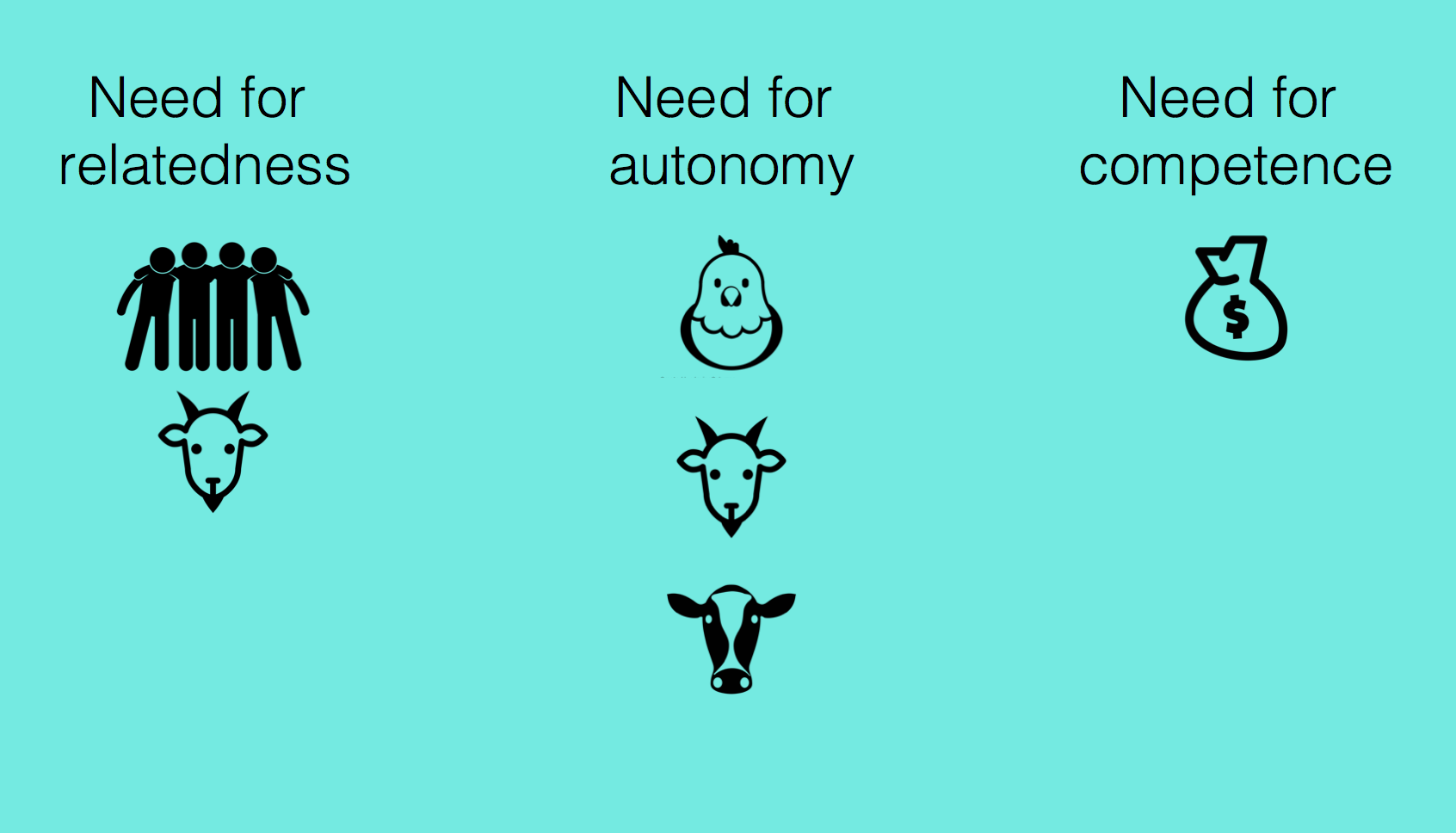 Group 2: T.A.F (Thinking About Food) Campaign: What's your next destination?
Jihye, Yannick, Vera, Jasmijn and Lete created a strategy focussed on the travelling millennials, specifically on creating transparency and interaction with Oxfam. Instead of focussing on one issue, they decided to highlight all issues of the broken food system and target the information toward a specific market, the most influential global market right now: millennial travelers. By closing the gap between awareness and action, they came up with a campaign: What's your next destination? - Billboards at international airports and stations will ask travellers en-route to their next destinations. After pinpointing this out, they will be confronted with a serious problem in that region connected to the broken food system through a personal visual story. After interacting with this, they'll have the opportunity to donate to Oxfam. Through this approach the campaign unwraps awareness to the events happening in regions they're going to visit, and gives them a possibility to instantly donate.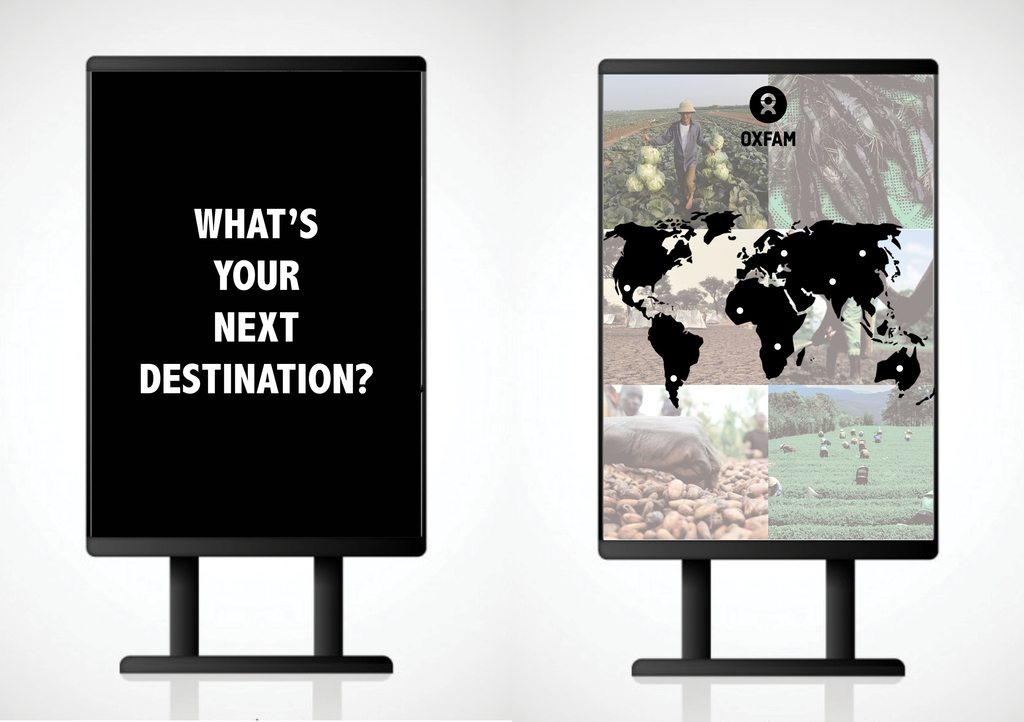 Group 3: will.work.for.food Campaign: Grown inspiration, map the solution
Raphaël, Chantal, Wouter, Julia and Stéphanie worked with the insight that people find it hard to support one charity as there are so many of them. They prefer taking action themselves instead of giving, and then being in the dark as to where their money would wind up. To solve this, they came up with the campaign: Grow inspiration, map the solution. A worldwide map with an overview of (small scale) charity projects you can contribute to abroad, in your country, city or even neighbourhood. Through this interaction and personal experience people will be more likely to take action. And this would hopefully turn into a chain effect. Let's grow inspiration - trust the movement, be part of the solution!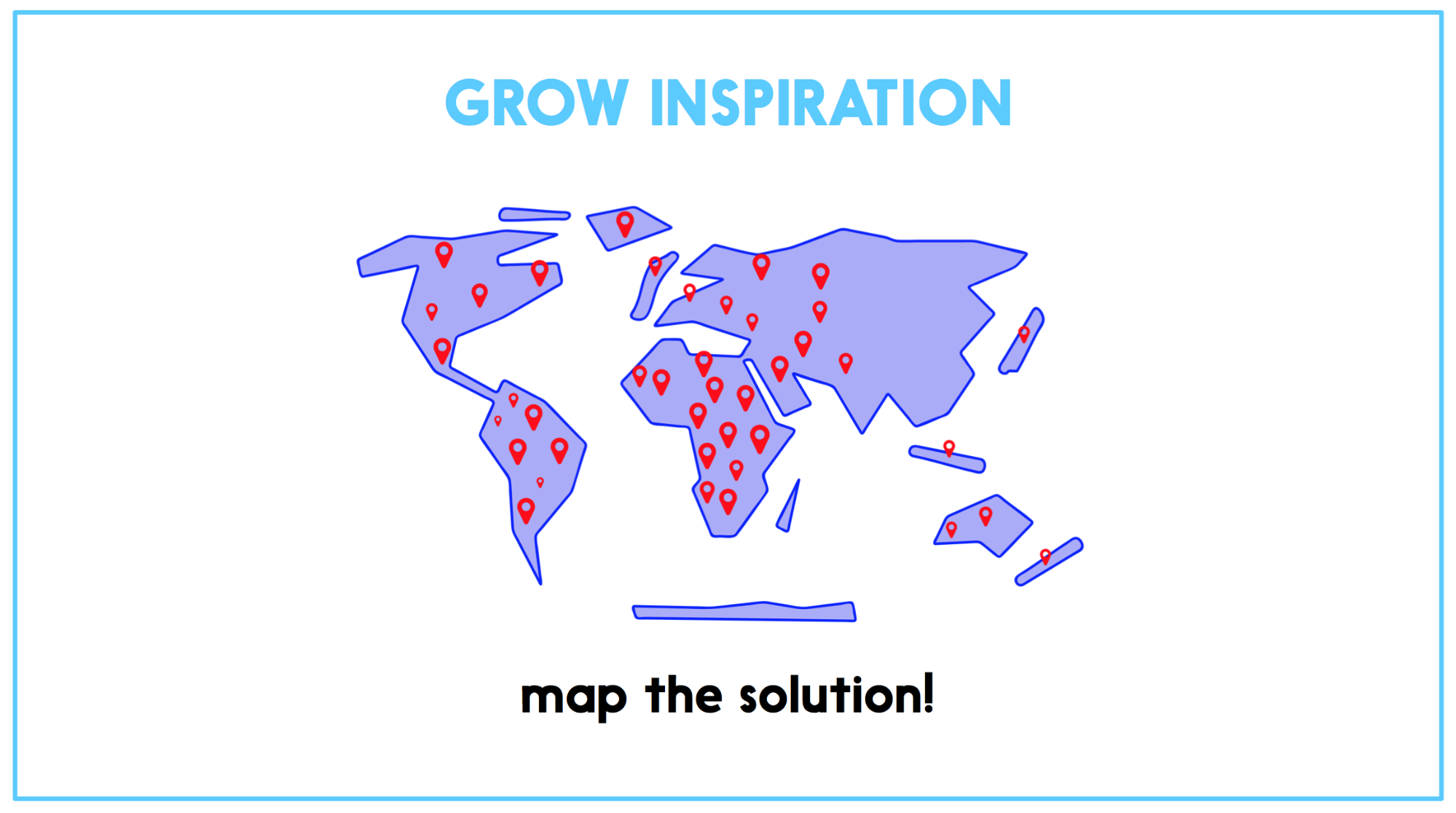 Group 4: Impact Campaign: Behind the brands
Guus, Sanne, Niels and Joris observed that after signing a petition, people returned to their daily lives and become passive activists. Team impact wanted to bring change to this passive attitude and convert it into an active one. Why not make a small change right at home? Research showed that there are definitely people out there who do care and share this with the world through local and personal initiatives. Team impact saw this as an example and means of inspiration. That's why they decided that user generated content can help to leverage exposure of a campaign and generate ideas for brands and other consumers to live more sustainable. Think of simple things such as taking a shorter shower in the morning or start a balcony garden? Let's share these ideas, create awareness amongst each other and make a change.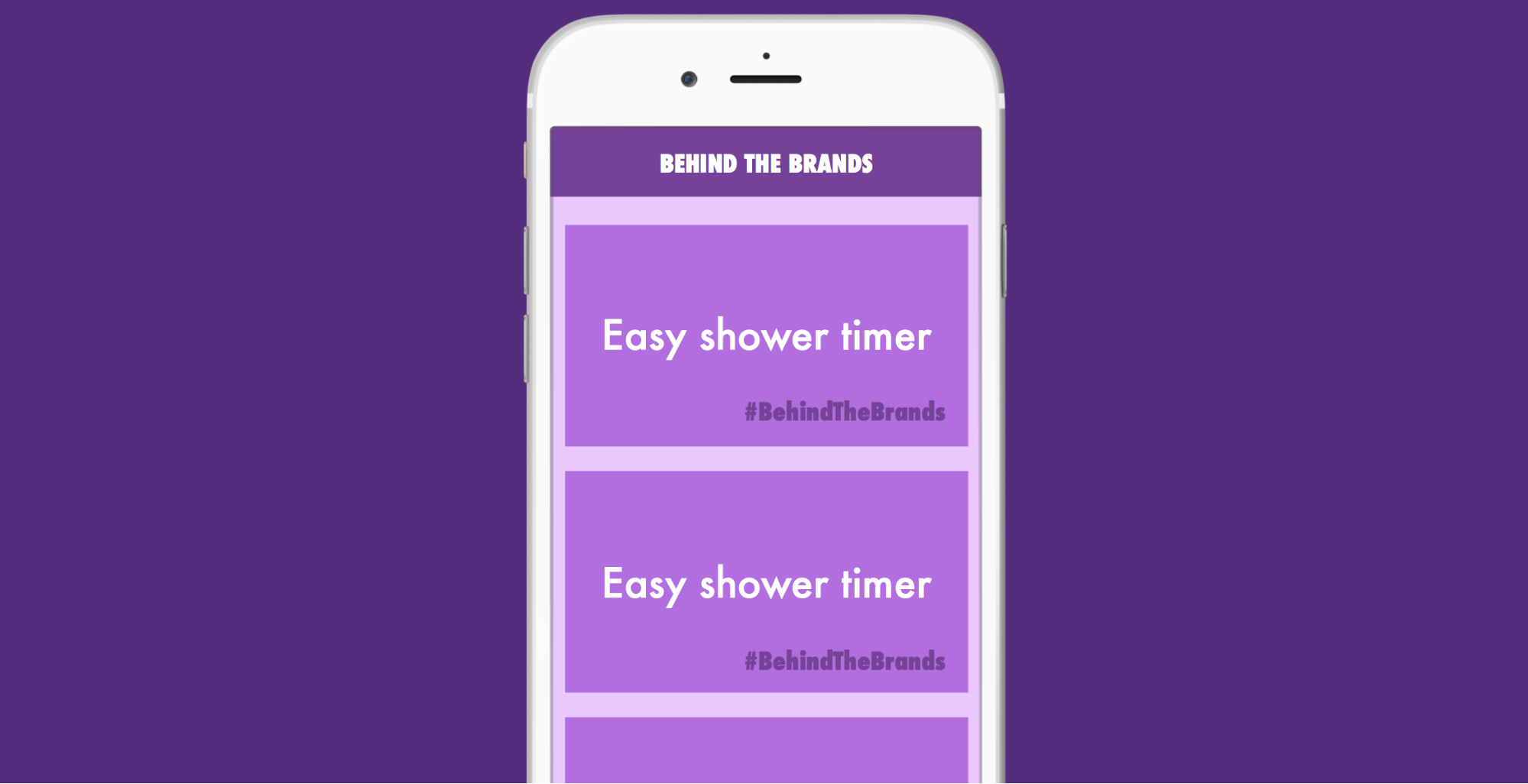 Group 5: Le petites onions Campaign: Confront with food waste
Le petites ognions, also known as Joëlle, Sjoerd, Renske and Rik paid attention towards awareness people's behaviour. Their focus centred on food waste - ¼ of what we buy, we throw away. This insight heavily influenced their strategy which predicated on confronting people with their buying behaviour in order to create a change. They came up with a couple of examples on how to approach this. One of them was a sticker campaign on fruits and vegetables prohibiting people of buying too many saying: "I'm not plastic, I don't last forever". Another idea was to invite food bloggers as Oxfam ambassadors to promote: food-about-to-go-bad recipes and share this by the #dontwastefood. Through this tactic Oxfam would take on one problem at a time which is simple, bite-sized and humoristic.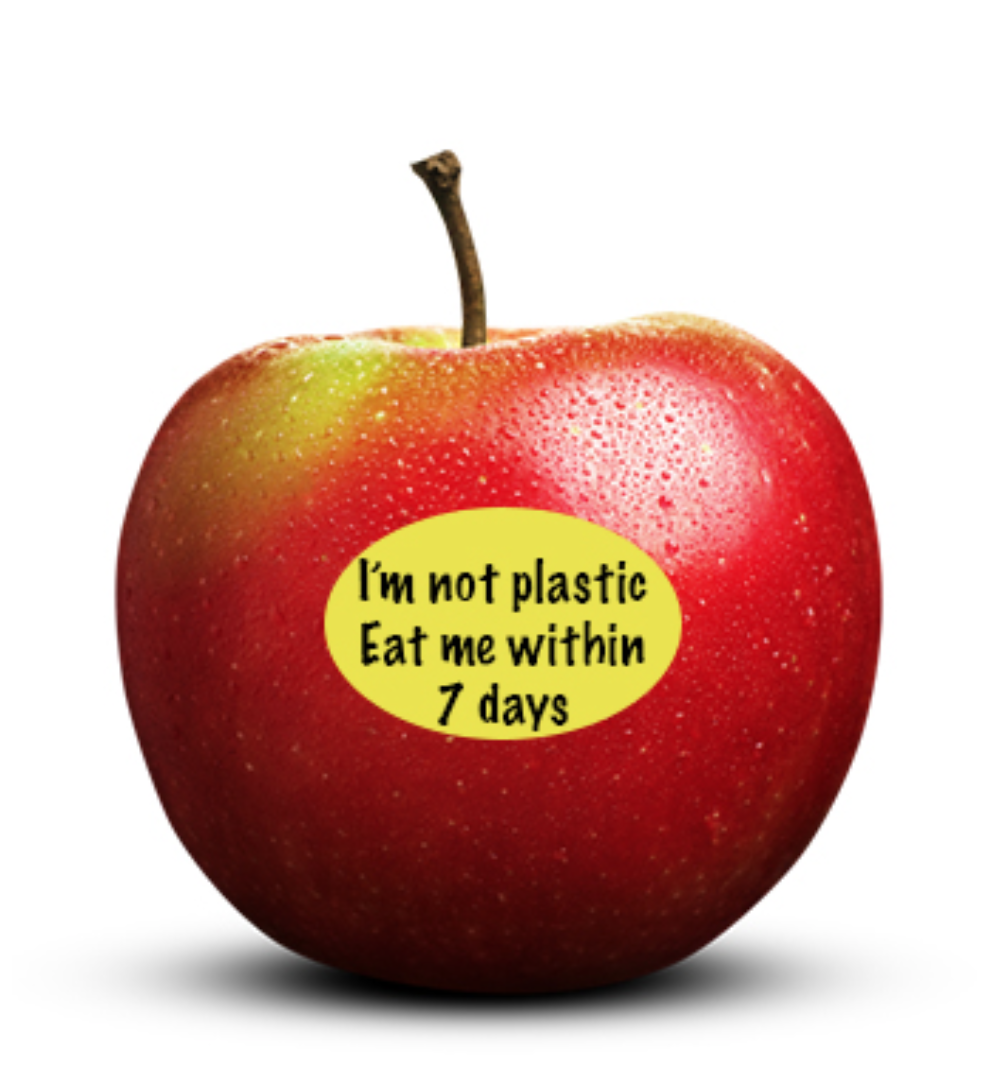 The Oxfam board, who were in attendance during the presentations, was positively surprised. The different approaches adopted by each team showed in how many ways the GROW campaign could be tackled. Oxfam thought it was interesting that, despite the multi-pronged approach from our groups, a common theme we stayed true to was having the consumers behaviour as a focal point. This gives an indication of the millennial mindset and their desired (future) way of living - "the change lies in our hands".
Also by taking one step at a time, focussing on one problem within the broken food system, a clearer structure is created. This contributes to an uncomplicated overview. Accompanied with an innovative and modern approach toward the problem, a bigger audience can potentially be engaged with and influenced for the better.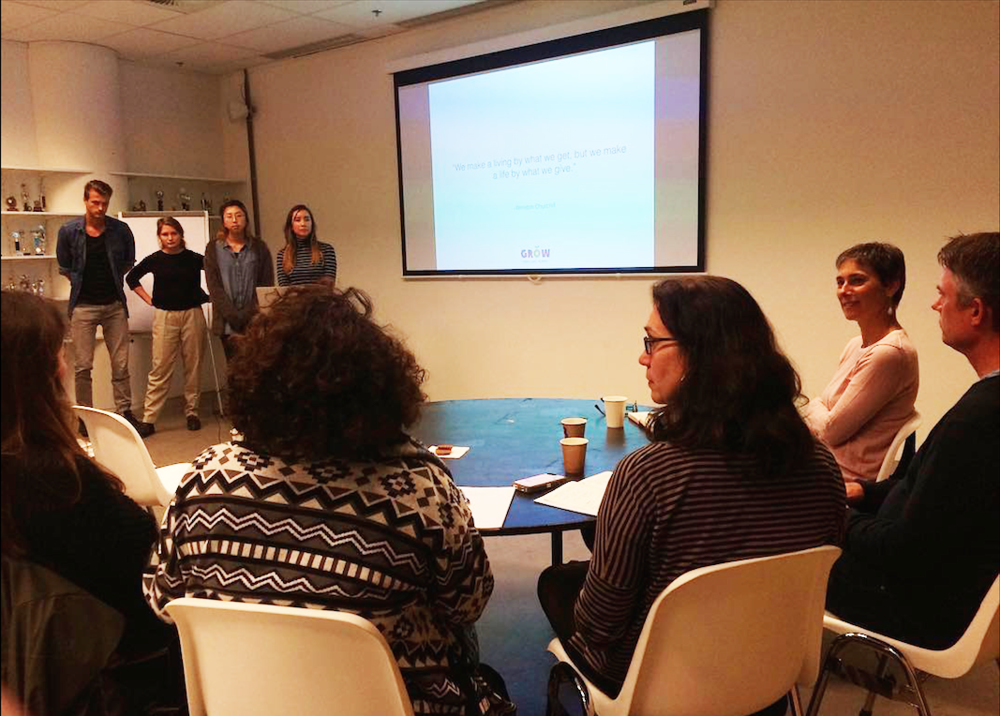 Afterthoughts
This module taught me how to extract the potentials from business model canvas. By going through these frameworks; business model canvas, stakeholder mapping and value proposition so rapidly, new ideas abounded almost immediately, complementing ideas which were well thought out. Working on a global problem increases your awareness as a person, and further fuels the desire to come up with a quick and viable solution which will hopefully have the right impact.
If you're reading this and feel as if you're up for a creative adventure too, check out our website.
---
About the Writer Lete Hulscher is a student at Hyper Island Amsterdam, having graduated from the Amsterdam Fashion Institute as a fashion brander prior. A love for concept development and collaborative projects lured her into the world of Experience Design. She dreams of starting her own awesome experience cafe within hospitality one day.