In less than a year, 6 wide-eyed individuals took the journey from being curious, aspiring students at Hyper Island to starting their own strategic Design and Branding agency. This is their story.
Are you ready for Hyper Island? Take our survey.
Picture this, 6 anonymous souls with 6 different passports wandering in separate yet parallel lives across the vastness of our planet in search of a more meaningful work life. A direction that would connect.
When starting out our journey at Hyper Island in summer 2015, some of us craved the opportunity to shift career paths toward a different industry ... or get that golden ticket to the 'dream job', while others were motivated to find like-minded and equally passionate people to start a project with.
It's interesting to observe how disparate minds come together. For us, that converging point was Hyper Island.
Are you real-world ready?
Frankly though, we were expecting Hyper Island to teach us a lot of hard skills that would lead us to becoming better creatives or designers, much like what we witnessed with graduates who moved on to exciting careers. "Give us a bite of that too." That was the outsider perspective we held back then.
So how does it feel like coming to Hyper Island you may ask? We'll readily admit that it's just like getting hit by a truck. You don't know where it came from but it's definitely going to shake things up in your life and that's the whole beauty of it.
Our Hyper Island journey has completely redefined our lives in ways we had never expected. Not only have we gained a wealth of knowledge and mindset shift that we enabled us to grow as individuals but our Hyper-journey brought us, 6 students, together to build our own culture and create our dream agency called Serious Business, which came to life during our internship spell at Hyper Island.
This has now grown to be our life and vision.
Sometimes we wake up wondering: How did all of this happen within just one year?
Here is our personal and open reflection on an unexpected yet valuable, beautiful experience at Hyper Island, for fellow alumnis, students, and you who's thinking of jumping on the Hyper roller coaster.
Are you ready for Hyper Island?
1. Shape your own path
Hyper Island is like a blank canvas. You will acquire the tools and methods necessary for exploring and crafting your own journey. This is a learning environment that puts you at the centre and lets you take charge of your learning experience. Throughout your education, you shape your own path with the constant support of your program manager and fellow students. We feel that it is this interactive learning experience, a combination of self initiation and peer support, that enables for a wholesome development on an individual level.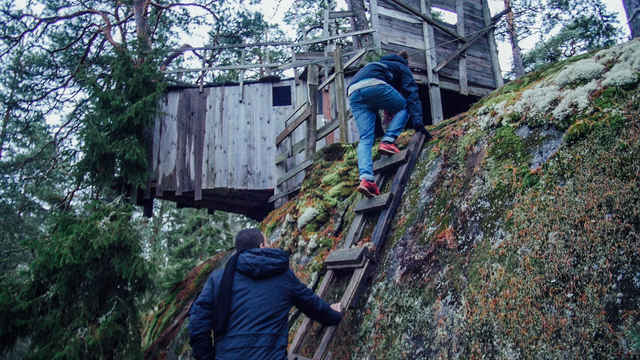 Plenty of opportunities will arise to meet new people inside and outside the school through collaboration and lectures. You'll choose your own roles in the projects that you work on and you choose whatever internship you like from a multitude of exciting companies that are interested in working with Hyper Island students. Hyper Island will take you on a journey that might vary greatly from person to person but wherever it takes you, it builds an amazing foundation for everyone to pursue their dreams. For us it enabled the freedom to start our own agency during the industry period as our own approach to the internship.
2. See yourself in a different light
How well do you know yourself? The person sitting and thinking just a few centimeters away from this screen? Fasten your seatbelt for a rollercoaster ride into the unknown.
From day one, you'll be challenged to step out of your comfort zone and learn more about yourself by practicing self-awareness and reflection. You'll be introduced, and learn how to utilise invaluable tools to aid in reflection, setting personal goals and giving/receiving feedback. You will learn to use tools and methods which not only make you better team member but help you grow as a person in any aspect of life. This process, in retrospect has helped us see ourselves and the world around us in a different light. By understanding ourselves better in the real sense of the word, the journey to become the person we want to be feels real and all the more reachable.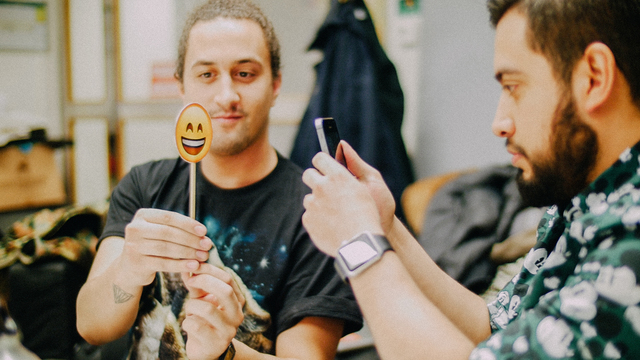 Are you ready for Hyper Island? Find out!
3. Meet and collaborate
Hyper Island is like a colourful and mixed bag of candies, you get the opportunity to meet and collaborate with an international bunch of super talented and open-minded people.
At least 50% of the students in our class came from outside of Scandinavia. The blend of cultures, backgrounds and experiences in itself are such a valuable source of inspiration and a great opportunity to learn from each other. Many of us took the initiative to work on projects even outside of school.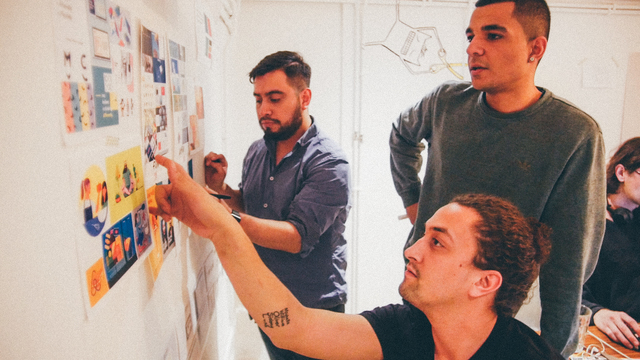 In any given project, you work in randomly created teams which really pushes and enables you to collaborate with new people, and new constellations. On top of that, there will be occasions where you get to work together with students from different programs in a so-called 'cross-program' projects. We experienced the power of diversity first hand which has enabled us to start an agency with a multidisciplinary team comprising different backgrounds and cultures.
4. Experience the real-world
There is no babysitting at Hyper Island. You will work on real projects on behalf of real clients.
Very early on, you will take full responsibility in projects from start to end. While this can prove challenging and frustrating at first, we quickly saw and embraced this as an opportunity to learn. Real development takes place when you teach yourself to swim in real waters, and we were surprised how quickly we learnt to 'swim' in so many real situations that have now become part of our daily work life.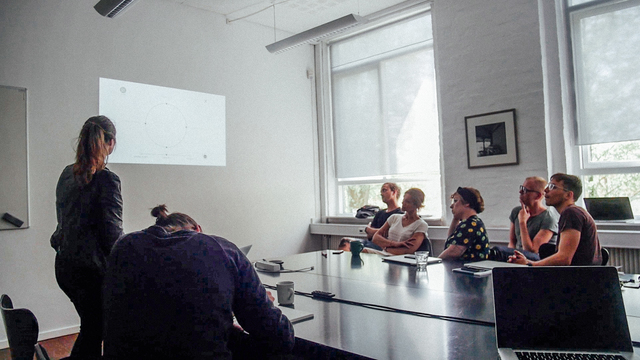 Maybe you'll be the client contact for a project, present the final outcome to a client, plan projects with real budgets, you'll do it all. On top of that, Hyper Island will design workshops for you to practice real-world situations. We felt really confident and ready to take on the challenges of running our own business after a years practice.
5. Shape the future
Hyper Island doesn't work with trends and what's current, rather seeking to understand the future and how that will shape our lives. You will often hear the word 'vision' around Hyper Island and it will inspire you in your own way of thinking.
For example, you may be in lectures where speakers sometimes touch upon ideas that seem crazy at this point, but then becomes quite real when viewed through the lens of how technology weighs in to create a new picture for the future. It is inspiring and fascinating to listen and interact with these people and to take a deep look into what could emerge. At times it feels almost like looking into a crystal ball and then understanding how technology will inevitably drive the change.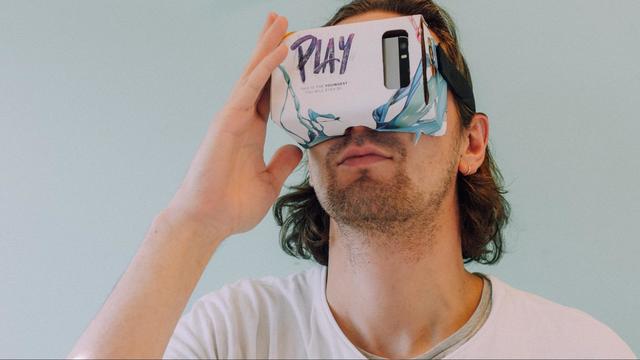 This approach will arm you with a better understanding of how to actively take part in the change and shaping the future of our planet. Starting an agency is not only an opportunity for us to shape our work culture but also to work on (own) projects that we believe will create a meaningful impact on our future.
So how does life after Hyper Island feel like?
For us, the world now feels smaller with so many connected minds and souls which we've built a relationship with the past year. We also feel ready and confident to take on any project or challenge.
Even if it feels like we are exploring unknown territories over and over again (we are challenged to our limits and sometimes scared as hell) ... There's one thing we know and trust after going through Hyper Island: We don't have to know everything. Instead, having the tools and methods to learn, reflect and improve constantly gives us faith in moving closer to our vision, step by step in a much better way than we could have done before. The valuable lessons learned while going through the day to day at Hyper Island helped us build our team culture when starting our agency which we've reflected upon in a recent article.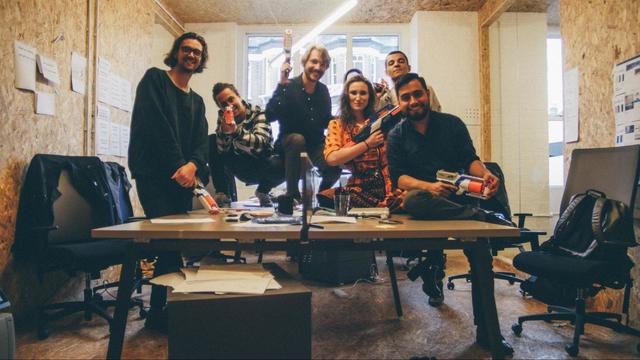 Maybe all if this is hard to grasp and relate to while you're reading this. We felt exactly the same before getting started. Whatever you're expecting from Hyper Island, we're sure you'll be surprised in so many ways ... which in itself makes it worthwhile going through one of the programs. Be open to expect the unexpected and discover this magic for yourself.
---
About Serious Business
Serious Business is a strategic Design & Branding agency founded in 2016 by 6 students during their Interactive Art Direction program at Hyper Island, Stockholm.
If you'd like to follow their progress and continue reading up on their reflections and inspirations as they grow, sign up to 'Serious Knowledge' monthly newsletter here.
---
Are you ready for Hyper Island? Take the survey now!