Digital Marketing Lab Summary: Lisa's KISS version
Lisa Asp attended the Digital Marketing Lab in Singapore, here's a summary of her learnings. Enjoy!
Firstly, take a second to reflect on the word Digital. What happens when we replace it with Networked? It's really what it is, isn't it? A networked society. A networked reality...
Now, let's keep that in mind and get down to business!
Successful applications of Networked Marketing
One way of getting "loyal" customers is to launch a User platform (like Nike Plus). Users connect to your device/app, accumulate & save data, and connect with friends etc. Once they're "in the system" they're more likely to stay (and keep buying the products that fit with the app). Switching to another supplier would mean losing historical data and list of friends etc.
In loosely structured networks, like Pinterest, Instagram, and Facebook, the users are all marketers. As a company, it's all about creating content that the users are willing to market (=share, like, comment). What makes something viral?
It's also about taking control of the next step. On YouTube for example, what video/playlist comes up after people have viewed your video?
To be successful in covering all aspects, you don't need one Web strategy, one Social strategy, one Mobile strategy, etc. You need a Networked strategy - a vantage point where perspectives intertwine.
Meaning markets
Instead of just telling people what your product does, you need to convey its meaning. Make people feel something, identify with your brand, and be proud of using your product.
Try to come up with some meanings for a few famous brands:

...and then do the same exercise for your own brand/product :)
The Meaning method could also be used to develop a product further (or come up with new product ideas), using the Ladder of abstraction: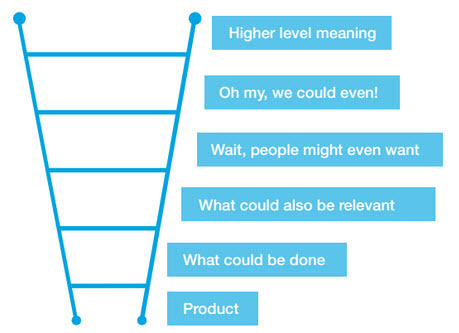 Put yourself in the shoes of your customers and think about what features would make them choose or stick to your brand/product.
Digital/networked communication
Some attributes:
interactive
always on
infinite
democratised
long-lasting
searchable-findable
measurable
hyperlinked
experiential (compared to print, radio etc.)
Two important things to remember when working with digital communication:
Communication should be approached not as messages but experiences. How does a brand feel? What's the full experience of it? Everything is connected! You're not communicating and then you're done with it - you're leading to something.

Communication is no longer "transmitting a signal", but transmitting a signal that triggers something - and builds up to something.
Communication is no longer "transmitting a signal", but transmitting a signal that triggers something - and builds up to something.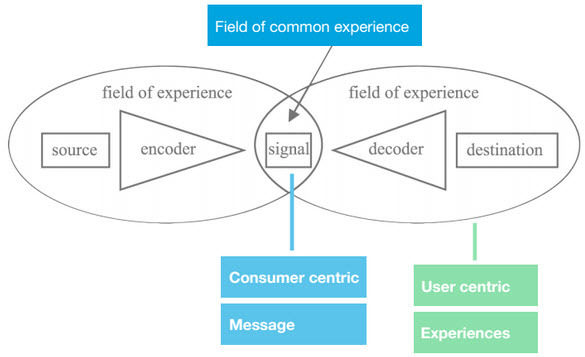 As marketers, we need to understand and build journeys. Think "what's the next desired action" and "how best to facilitate that". Think back to YouTube - what playlist comes up after someone has watched a clip?
Posting your video on YouTube does not make it Digital Storytelling. Building a story of your brand, creating an experience, a feeling, a journey (that holds together across platforms), something worth remembering - and telling others about. That's digital storytelling.
Digital storytelling starts with company culture… and results in user experience.
Bad vs. good user experience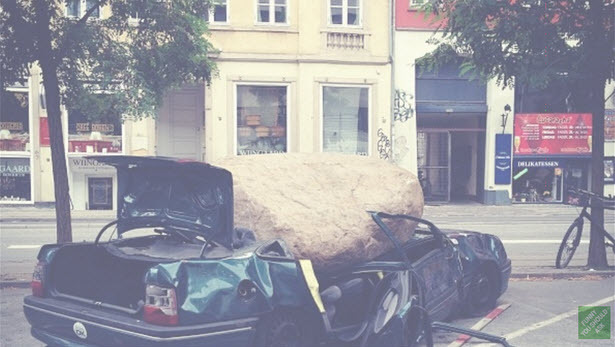 So you need a rental car! The first rental car service that pops into your mind is Avis, so you take out your phone and go to their website.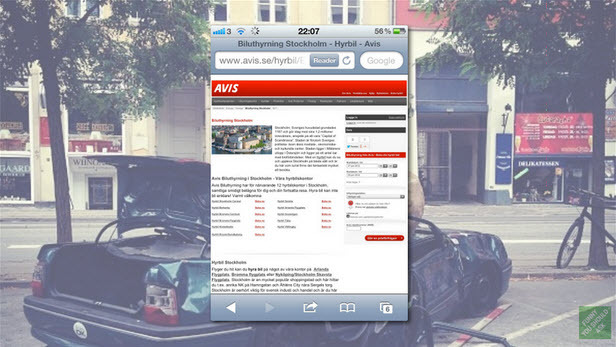 What?! Too complicated! Let's Google instead...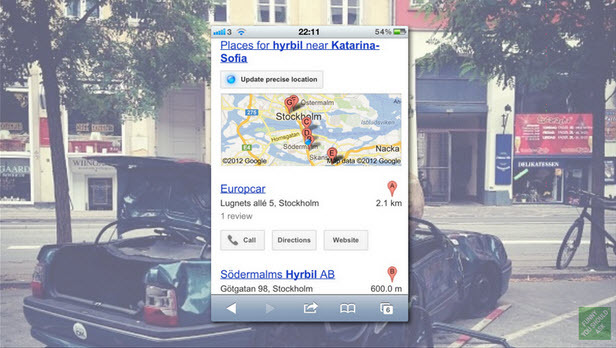 Top result for rental car nearby: Europcar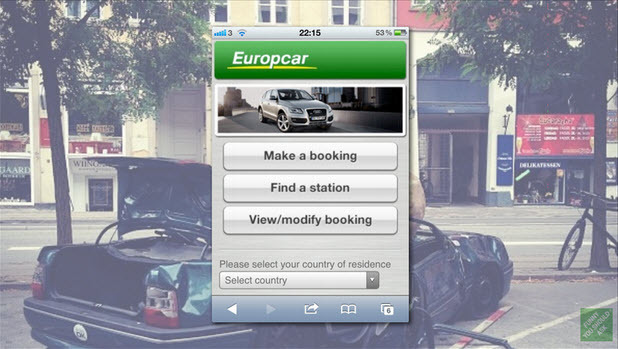 Now that's what we need! Problem solved :)
What was the cost for Europcar to develop a user-friendly mobile experience, and what is the cost for Avis for losing customers by providing a bad experience?
Also, what people talk about in social media is shitty or fabulous experiences (or their kids ;) - quite predictable really.
Another example of good user experience is Zappos. Their figures show that if you only over-deliver and delight, the network does the work:
75% of new customers are referred by customers.
40% were told of an amazing experience they had.
Those customers are 2,5 times more valuable.
This question model that say "keep customer service cost down, and let's increase our advertising budget". Zappos rarely advertise, but focus a lot on customer service… which might be seen as some sort of advertising, given the effects on the business!
So perhaps "great marketing" is understanding the power of a networked society, bringing that understanding into the whole organisation, and planning & working in a way that benefits from that reality.
Short- vs. long-term tactics
When you run a campaign with the purpose of boosting traffic to your website, you'll likely get more traffic and more leads… for a limited period of time… and with questionable quality.
What if, instead, you focused on continuous improvements, user experience, A/B testing - to create a website that attracts the right target group? Instead of a short-term traffic gain, you will get a long-term increase in conversion.
Lesson: Go for longer lasting tactics instead of bombastic campaigns.
Long-term SEO includes seeing what words customers use in searches, and produce content that match those keywords.
Social media
How do we create a brand that people feel enthusiastic enough about to start their own conversations about?
Social listening can give input into why people use or not use a product/service.
You can also "stalk" people on Facebook ;) Click on people who liked something related to your brand/product, and scan their profiles for demographics and other interests etc. That can give you ideas on new content that will engage your audience.
Set up SMART objectives:
Specific
Measurable
Achievable
Relevant
Time-bound
Tools & data
The tools we use for digital marketing all run on data. We need to get data into the picture early, and make sure we have someone who can understand the data and know how to use it.
Today, everyone is talking about Big data, but big data is useless unless you know what to do with it. Know what data is relevant, and have the tools, models, collection, analysis and sense-making in place to get some value out of it.
You can make big use of data. Read here about how Netflix tracks popular piracy downloads to determine which programs to offer its customers. Clever!
Here are some tips on how to use data wisely:
Search insights
Analyzing search queries can help you with SEO improvement, content production, AdWords creation, site structure, link strategy etc. Some of which is kind of the same thing ;)
Use Google Trends to find out what keywords are rising or declining in your industry.
Site insights
Look at the top content in Google Analytics and create blog posts and other content on those topics.
Where is traffic coming from? Traffic sources: Organic search, direct, referral, social, email.
In the free version of Analytics, it's not so easy to see what keywords people use to get to your site anymore, that's a Premium function now.
Social insights
Think about what the numbers mean and how you can use them. The platforms that generate the most traffic might not be the ones generating the most conversions. The content with the widest reach might not be the content that the audience engages the most with.
This is connected to the idea about communication as experiences and content that leads to the next step/desired action. To get the audience to engage and convert, we need to make them feel something.
Driving traffic is a common goal for social, and one that's easy to measure. But you can also set up other goals, like:
Communication goals: reach (not the same as awareness), create conversation/engagement…
Brand goals: awareness, image…
Business/financial goals: conversion, follow a customer from first contact to sale...
The tricky part is often to prove how for example a conversation in social media supports brand/business goals!
Insights/data driven marketing is a given in owned channels, but can also be applied to bought media.*
3rd party ad serving companies can connect analytics from several platforms to give you information about conversions etc. If you add a banner on an external site, you don't only want to know how much traffic it generated. What happened next? How much money did you make out of that banner? The click-through rate might be fine, but the next conversion step might fail = you don't reach your end goal.
You can test ad copy and/or images dynamically and figure out what works best in real-time. See banners as "dynamic creative space".
TV commercials: If you want to find out what works before you spend obscene amounts of money on the real thing, create a few different test versions and run them on YouTube TrueView (the ads that play before video). You don't pay until users have watched 30 sec or the full ad.
Google AdWords + quality score: The quality score is based on ad copy and link, plus what the landing page is about - it has to be relevant to the ad. A higher quality score makes you show up higher in the results, but pay less per click.
Random tips & thoughts
Two different methods of using data when launching a new website:
Don't set the launch to a fixed date. Test the new site by sending some of the visitors there (A/B testing) and then switch when you've improved it so it performs better than the old site.

Don't make things perfect before publishing (e.g. websites). Learn what works and not by testing. Improve it continuously.
Mix "About us" and "Product" content - because people feel more comfortable buying your product when they know more about your brand.
A good exercise for testing and adjusting ideas is to list potential barriers to achieving your goal with a specific message/campaign/initiative. What ideas and perceptions among the target group would stop them from embracing it? Timing, budget? Competing campaigns, news stories?
Many companies post non-branded stuff on Facebook, because when someone has engaged with your content a few times, your posts will be promoted higher on their wall by Facebook. Example: Innocent drinks
If you find an interesting article, don't just add a link to it on Twitter/Facebook. Do a blog post about it and add your own comments and opinions.
SEO: Publish your white papers & references in html and add a "Save article" link at the bottom for the PDF. If you just post the PDF, the text is not indexed by Google.
How much information do you really need from people when they use your contact or download form? If information like company, location etc. (that you can get from Marketo/Insightera and others) is enough, you might not need a form for downloads?
Use a Trial to get a big project going. Stakeholders tend to be less scared to approve a "trial budget" ;)
Definition of owned, paid (bought) and earned media: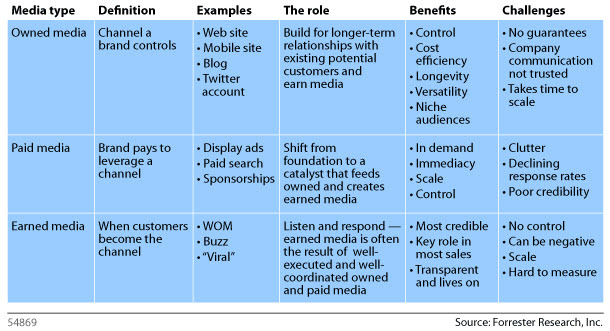 http://blogs.forrester.com/interactive_marketing/2009/12/defining-earned-owned-and-paid-media.html
Thank you Olle Svensson @addwax, Simon Kemp @eskimon and the other speakers for inspiration, knowledge and photos!
**This post is written by Lisa Asp who went to a Digital Marketing Lab in Singapore, 2014. The next Digital Marketing Lab is February 2-5, come join us!