Why Motion Designer in Karlskrona was exactly right for me
Andreas, 22, is one of our Motion Designer (previously called Motion Creative) students in Karlskrona. He describes himself as a music nerd and now has even found a way to combine his passion for sound and music with his strong interest in motion.
Raised in a suburb of Stockholm, he had a difficult time figuring out what to do after finishing High School. Instead of storming right into higher education, he tried out some regular jobs first. "The only thing I was sure of was that I always wanted to be a designer of some sort. In school, web design had been my favorite subject. At one of my jobs, I met a friend who knew about Hyper Island and recommended it to me. It sounded like the perfect place for me. A different approach to education with a learning by doing mentality and a potential focus on graphic design – something I had always fancied."
When Andreas first heard about the school, he had just missed the spring deadline to start studying the same year. He kept working for a few months while educating himself about Hyper Island by for example going to SACO student fair to speak to members of the recruitment team. After that, he started working on his Creative Task about 5 months early.
"For my Creative Task, I created a two-minute animation. I had never done anything like it before, so it took me a long time to make it. I had to teach myself a whole new software. Looking back, it was really worth it because it got me deeper into the hard skills of design – and of course, it got me into Hyper Island."
When Andreas applied for Hyper Island, his top choice program was Digital Media Creative, Motion Designer (previously called Motion Creative) his second. He got into his second choice. "I thought I wanted to do Digital Media Creative but now I'm glad I went to Motion Designer. It's exactly what I needed. The Motion Designer program is much more hands-on with hard skills, so more production focused and I really enjoy that. Of course, I felt a bit bummed to leave Stockholm, but even moving to Karlskrona turned out to be the right thing for me. I could fully focus on my studies."
Andreas studied our two-year Motion Designer program in Karlskrona, which distinguishes itself with a focus on more hard production skills. Andreas says the size of the town is perfect to focus on studies, grow close friendships and create a unique learning atmosphere. He also believes in the 2-year concept, saying that you get more time to practice and develop, hence simply learn more. "If I could apply again, Motion Designer in Karlskrona would be my top choice."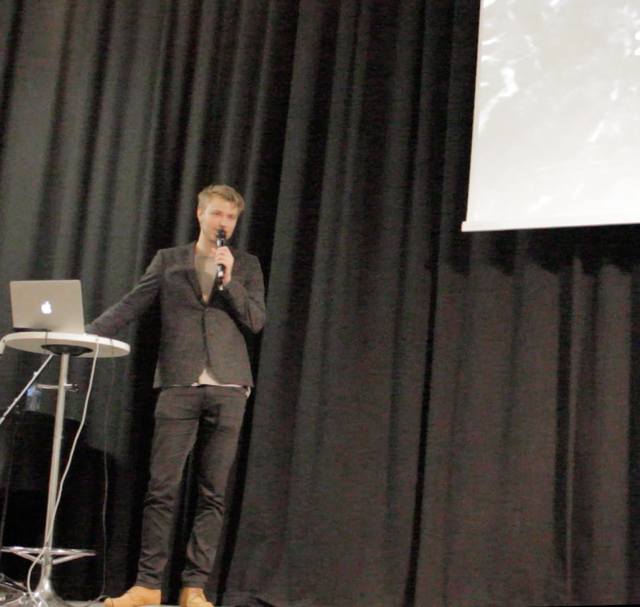 Andreas during one of his project presentations
As mentioned above, Andreas' great passion is music, so his best learning experience so far, was when he realized he could combine sound with motion. "It was 10 pm on a weekday at home and I was listening to music, reflecting on a school project and I suddenly just knew I could make it happen. Since then I've really been focusing on sound for motion graphics."
Andreas enjoyed the Hyper Island methodology from day one. "I didn't know what I expected when I got there but it was better than what I had imagined. It's not too hippie so-to-speak, but it's different and productive." Andreas found it easy to find an internship, as he got a spot at a company they had collaborated with at Hyper Island before.
When asked to describe Hyper Island in one word, Andreas struggles to find the right answer. He says that if you want to work in a creative area, you should go to Hyper Island. "It's a great way into the industry, you develop so much on a personal and professional level. It's simply not just hard skills.
Andreas' aim is to become a freelance sound designer, either in Sweden or in one of the world's music hubs like London or L.A. "I'd move for a cool project"; he says.
Hyper Island has a great network in the creative industry. "I keep meeting people that are connected to Hyper Island in different ways, so it really feels like a big supportive family. That gives me confidence that I can do great things."
Andreas is proud to be done with this education soon but says he will miss parts of it. "I will miss the inclusiveness and the atmosphere." He even considers coming back to Hyper Island in the future, to stay on track and support his continuous learning.
---
We are currently accepting applications for our Motion Designer program in Karlskrona, as well asDigital Media Creative in Karlskrona. You can find more information about Karlskrona here.