'Now I know that putting people first is the way to excel in the digital world.' – Digital Acceleration Master Class
We met with Creative Copywriter, André, who works in Lisbon, Portugal. André recently came to Stockholm to take part in a 2-day Digital Acceleration Master Class. Here are his main takeaways and some reasons why he is already planning his return to Hyper Island.
JOIN OUR NEXT DIGITAL ACCELERATION CLASS
Hi André, how did you first hear about Hyper Island?
In fact, none of my colleagues had done a Hyper Island course, but one of them mentioned he knew some people at other agencies who had been to Hyper Island and were saying great things about it. That's when I first got curious.
I work in traditional advertising (TV, Radio, Press), but over the past 2 years, I've been more and more involved with digital communication for our clients. I felt like I needed training for that. That's when I remembered what my colleague had said about Hyper Island.
So why did you choose the Digital Acceleration class?
I wanted to do Digital Media Creative, but that's a long-term program and I couldn't commit to spending that much time on it. The Digital Acceleration course sounded like a good alternative to get the inspiration and method boost I needed. I also saw it as a starting point to doing several courses in the long-term.
Did you get what you expected from the course?
The course definitely met my expectations, but there were also a lot of things that I learned that I wasn't expecting to learn at all.
When I first signed up for the course, I had the assumption that it would be more about social media, communications and managing media. It actually ended up being very different from that and far more insightful. We looked at digital in a much broader way.
Here at the agency, the work I do that is classified as digital is mostly concerned with social media. At Hyper Island I learned that digital is a lot more than that – it's about people.
Was that the biggest takeaway from the class for you?
Yes, and the fact that I realized that digital is not about technology, it's about behaviors. That was such an important and eye-opening thing for me to learn in order to improve my work.
Before the course, I thought the main focus when working with digital media would be technology, but now I know that putting people first is the way to excel in the digital world.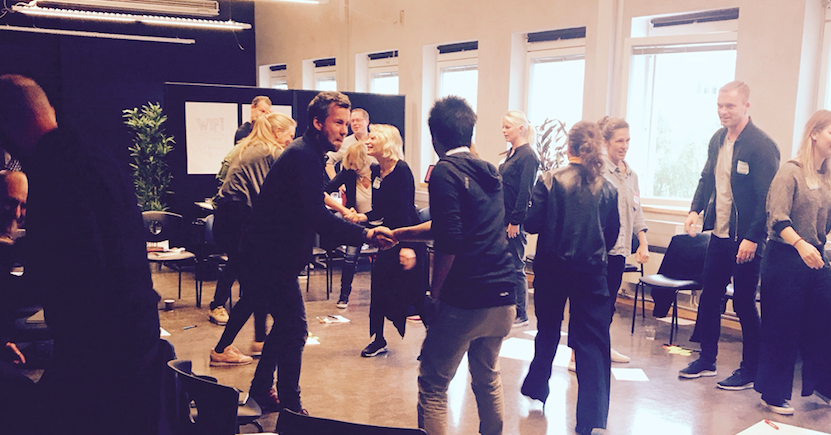 Have you used any of the tools you learned at work yet?
Yes, I really liked the Mashup Innovation we did when we were ideating around creating an app. I try to use this in my creative processes at work now as well. The same goes for The Network Effect – I really try to involve my network more and earlier on in the process. The Stinky Fish tool was also fun to learn and has already proved helpful to me in my daily life.
Additionally, the concept of failing fast had a big impact on me. I realized that sometimes you don't have to finish everything perfectly, but learn to prototype and work with that to improve the initial idea. That really is the opposite of how I usually work at my job – so it's a great learning that I hope to bring into my job more.
My main takeaway, however, is the reflecting. I really enjoyed that and I try to reflect regularly now. It helps me consider things that I usually wouldn't be thinking about and switch perspective. I believe reflecting is a vital part of being creative.
André, can you describe the Digital Acceleration course in just a few words?
It's an insightful course, in a relaxed environment and atmosphere. It has skilled course leaders who know how to facilitate. You learn useful tools that boost your inspiration and it will get you excited for working in a digital world. For me personally, the course made me more comfortable with working in a digital environment.
I had a great time and I learned a lot of things. I am looking forward to coming back to Hyper Island for more.
JOIN OUR NEXT DIGITAL ACCELERATION CLASS