Designing the future railway station experience.
"What new civic function might a rail transportation hub play in the next 10-25 years?" This was the challenge set by Future Cities Catapult to our new cohort of Digital Experience Design students.
With the support of engineers, architects and urban designers, our rail providers work ongoing to create infrastructural changes as far as 30 years into the future.
With a projected increased footfall in our future railway stations and the rise of digital technology; is there a way in which we can optimise their design for a better human experience?
The future of the railway station.
Future Cities Catapult and Grimshaw Architects wanted to explore the potential of digitally enabled, future station experiences. They brought together rail operators and station designers to set a brief that framed current and possible future station challenges. Our clients talked to the students about how the integration of different infrastructures can make cities and stations more resilient and sustainable. The students spent time understanding the work that already happened in this space around technology, integrated data, digital and the internet of things.
Our MA Digital Experience Design students were invited to explore a digitally mediated experience of a future railway station. Future Cities Catapult chose Hyper Island's MA Digital Experience Design students because of their deep knowledge of service design and how to design both offline and online experiences. The students are constantly challenged to work across disciplinary, cultural, and geographical boundaries to design innovative solutions to meet user and business needs.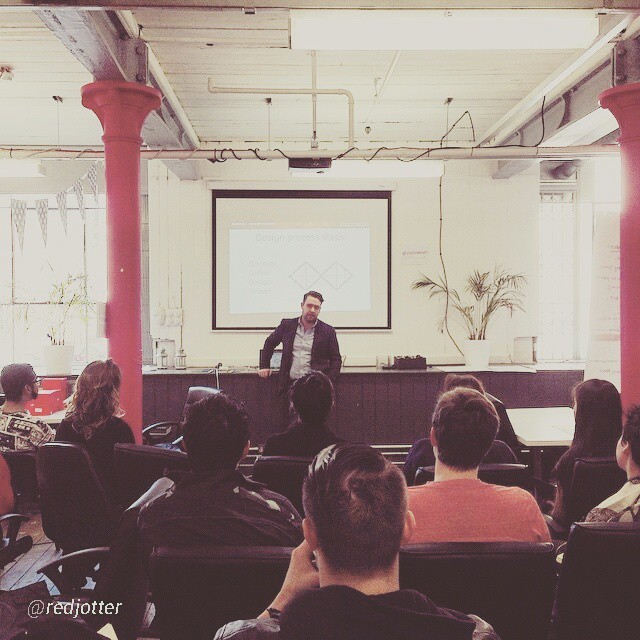 The project kicked off with a workshop led by Devon Walshe on how to design with data. It was followed by series of lectures and workshops from industry leaders such as Joe MacLeod, who talked about Closure Experiences. All these helped frame the future of stations from the perspectives of:
station design
integrated urban design
ticketing and services
impacts of predictive analytics
social data
accurate transport data
It was supported by industry leaders in Digital Design and Service Design, Method, including their Senior Interaction Designer, and Hyper Island alumni, Jesper Broring who coached the students throughout the project.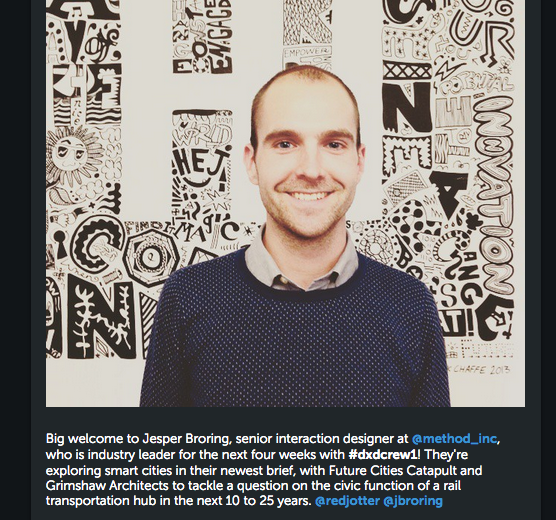 The brief
"What new civic function might a rail transportation hub play in the next 10-25 years?"
Students were asked to take some elements into consideration, such as how the station operators could dynamically re-direct travellers around disruption, and how the neighbouring businesses could be increasingly integrated with station environments. They were also asked to consider what new civic functions a station would play in the future and how the service function around suburban rail stations would be.
The projects were showcased at London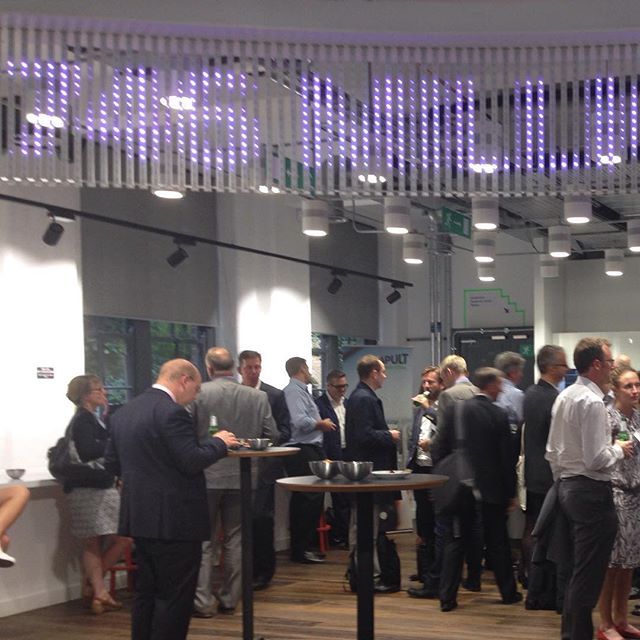 The team at Future Cities were keen to showcase the work that the students created, so they hosted a showcase event that brought together people from across rail, engineering and design fields, such as Network Rail, Arup, and Atkins Rail Delivery Group. The event brought together Declan McCafferty, Partner at Grimshaw Architects, Tim Chapman, Director at Arup, and Mike Goggin, Director at Steer Davies Gleave, to discuss new customer experiences in stations.
The collaboration was a great experience from both sides:
"The teams took the brief in very different directions but all responded to significant urban long-run trends such as densification in cities, environmental performance for human wellbeing, big data and business as well as internationalisation and city competition. In just three weeks, they researched these themes in the context of rail stations and produced, developed and prototyped ideas through film in very novel and interested ways." – Claire Mookerjee / Project Lead, Urbanism, Future Cities Catapult.
"It was great to work on design fiction; it's a fascinating field. Very nice to produce something tangible and move beyond the concept stage. The showcase was so valuable because we got to see our ideas in action." – Gaelle le Gelard, MA Digital Experience Design student
Here are the teams and their final videos:
Emma's Story
Team: Austin Beer, Christine Valentin, Emma Crowe, Jia Liang "JL" Wong, Natalie Foo, Tracey Valliere-Evans
"The act of travelling on a train evokes feelings of calmness, relaxation and romanticism. Changing scenery and rolling landscapes send our imaginations far away. Yet train stations are seen to be stressful, functional places, full of busy and distracted people.
Right now, over 50% of UK adults are stressed every day. Our cities are growing, and, despite train stations being the heart of the city, they are becoming hostile locations. While city stations offer easy access to its people, this close proximity does not mean intimacy. In fact, loneliness can be most acute in a crowd. British people are less likely to have strong friendships or know their neighbours more than anywhere else in the EU. Depression and anxiety are increasing in the UK. These statistics, combined with our move to a more technological society – where we may be even more disconnected from real-life connections – paints a bleak picture of our future.
In this future of increased urbanisation – through city growth and the creation of mega-cities – natural environments will get further and further away from urban areas, making it difficult to access areas of natural greenery. Research shows that exposure to nature can produce increased energy, helps to lower stress levels, and gives a heightened sense of well-being that relieves exhaustion. Natural surroundings have social as well as personal benefits; exposure to natural, as opposed to man-made environments, leads people to value community and close relationships. Building nature into urban environments will help to create a stronger sense of community among residents.
Cities should be doing more to keep and introduce these areas of tranquility into cityscapes. Providing representations of nature as a civic function in the heart of the city will help cultivate connections between the unconnected."
Poly
Team: Clint Pick, Edwina Nolan, Gaëlle le Gélard, Hasan Habib, João Chin da Silva, and Kara Western
"Train stations are often historical sites and beautiful architectural structures. However, their beauty frequently gets lost in the hustle and bustle of the day. Train travel used to be romanticised but is now seen as purely functional. Stations are a means of passage and a place where you do not want to spend much time.
Despite being centrally located, train stations are not integrated into cities. Everyday millions of Britons pass through train stations. During peak times they tend to be overcrowded, and during off-peak they become nearly empty and unused.
In the near future, cities will expand rapidly in size and density. Technology will change the way we travel and train stations need to adapt. They need to be flexible and adaptive spaces to accommodate both the community and the commuter.
To address these problems we created Poly, which is a modular surface that forms the ground and other areas in the station. It is made of graphene and powered through kinetic energy. Every side of Poly contains interactive displays, allowing users to play and connect with the space.
Poly allows users to raise and lower hexagonal structures, creating flexible and interactive spaces to suit the needs of the station users. It assists staff with the day to day management of the station, provides users with information, and improves station accessibility. During peak hours the station will assist service providers by guiding people to their destination and allowing staff to nudge them to create efficient flows. During off-peak hours the community can organise events like film showings or staging of plays. We envision a train station where communities and commuters come and use Poly to create marketplaces, interactive art, or spaces to play games."
PicCivic
Team: Chloe Eunsung Kim, Dessy Chongarova, Jonny Howle, Ligia Oliveira, Maggie Peterson, Soraya Cadelli, Tiago Varandas.
"One thing about the future that we don't see changing anytime soon is our basic human need for a sense of belonging and place. People want to understand where they are in the world and to see that their destination is different from their starting point. Currently, it is difficult for travelers to differentiate when they step off of a train, because stations do not reflect the local culture or identity of their city.
Our future station seeks to bring travelers a sense of place and locals a sense of pride by replacing corporate chains with local businesses and bringing back the flavor of the city. Piccadilly Civic Station is a different type of station that incubates and supports the growth of local businesses like artisans, crafters, and makers by providing low-cost space. PicCiv also helps to support these small businesses by providing them with local data, which help businesses keep up with the fast paced environment of a train station. The local data become accessible and actionable for small business owners with the DataLens platform. This user friendly platform takes data from passengers and shoppers and compiles it into simple to understand and actionable ways for businesses to provide relevant service for their patrons.
Customers will experience sense of place and optimised services in stations by interacting with small businesses, while local businesses will receive the space and support from the station. The station will become a strong representative of the city identity and a larger percent of money spent will go back into the community. "
About the MA Digital Experience Design Programme
The students that completed this brief were part of the MA Digital Experience Design programme at Hyper Island. It has been designed in response to demand from industry. It will develop your technical, creative and strategic skills as an experience designer to lead the change within this evolving industry.
To find out more and apply online, click here.